Interstate Travel by Bus in Malaysia
Malaysia has a robust road transport system with many highways and expressways. Buses are a major form of transportation in Malaysia due to their availability and affordability. Due to the recent COVID pandemic, interstate bus travel services in Malaysia were suspended for a long time. Currently, bus travel is allowed at reduced capacity and frequency. You can find buses to various cities in Malaysia, including some of the lesser-known areas. Interstate bus travel in Malaysia is flexible due to the presence of various bus operators. Read on to know more about interstate bus services in Malaysia.
Why travel via bus?
Since travelling from one state to other in a personal capacity is still not allowed in Malaysia, buses are the most economical means of travelling in Malaysia. Other transportation means in Malaysia are still not working to their fullest capacity due to the recent pandemic. Not only bus services are affordable, but they are also easily available from various parts of Malaysia. The government of Malaysia has also ensured to provide a safe travel environment to the passengers. Various bus stops and stations around Malaysia are being sanitised and deep-cleaned for providing safe bus services to citizens. The Malaysian interstate bus operators also take various preventive measures to ensure passengers' safety. You don't even have to worry about the route, driver, etc., for interstate travel by bus in Malaysia.
Malaysia interstate bus operators
There are a lot of interstate bus operators in Malaysia. The presence of various interstate bus operators in Malaysia provides flexibility to passengers. You can compare the fare of various interstate buses and can choose accordingly. Some of the top bus operators in Malaysia that provide interstate buses are Sani Express, Cosmic Express, Transnasional, Cepat Express, StarMart Express, Causeway Link, Aerobus, etc. Choose top-rated bus operators for interstate travel in Malaysia as they will ensure passenger safety amidst the COVID crisis.
These bus operators take various safety measures and provide safety amenities onboard to keep the passengers protected from infection. Most of the reliable bus operators in Malaysia sanitise their buses at frequent intervals to reduce the chances of infection. Some of the interstate buses also provide a temperature checking facility during the boarding process. You will also receive hand sanitisers on interstate buses in Malaysia to maintain your hand hygiene. It is suggested to look for the bus operator's safety amenities before booking an interstate bus. You can also try online bus ticket booking to stay safe amidst the current COVID scenario.
Why book online interstate bus tickets?
Booking interstate bus tickets online will help you in ignoring the physical ticket booking centres. You do not have to wait amidst the crowd for public transportation if you have pre-booked your bus tickets. One should choose a reliable source/platform that does not apply any middleman charges. You will get an e-ticket if you book an interstate bus via an online platform. Using e-tickets will also help you in adhering to the social distancing norms. Besides benefits against the COVID pandemic, online bus ticket booking has many other benefits. You can explore various routes and bus operators via online bus booking in Malaysia. Also, look out for promotional offers and coupon codes that can help you lower the cost of interstate bus tickets while online bus booking. Besides looking for bus operators' safety measures, passengers should also adhere to various travel guidelines due to the recent COVID pandemic.
Passenger guidelines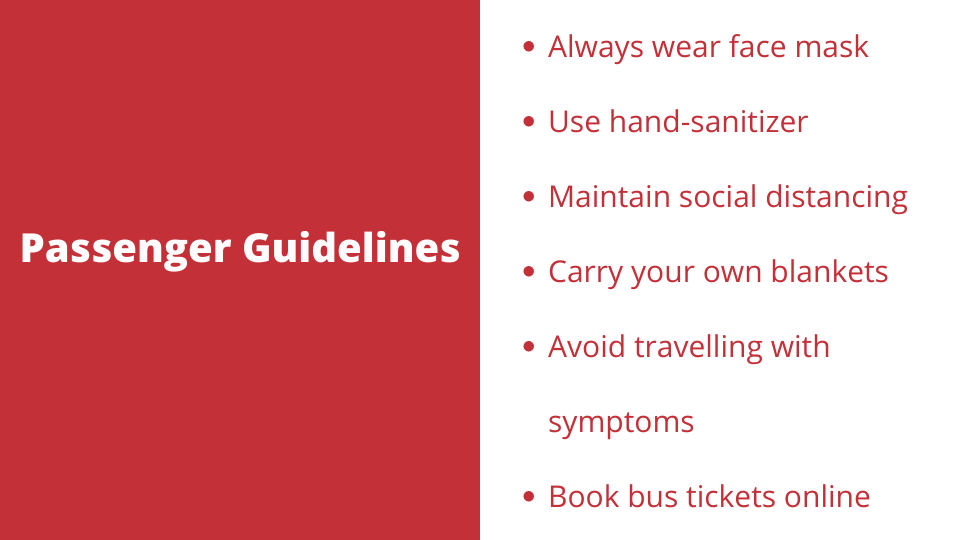 You should follow various safety guidelines while travelling from one state to another in Malaysia. Passengers should always wear a mask and take care of their hand hygiene while travelling from one state to another in Malaysia. If you possess any signs of the COVID disease, then avoid interstate travel and immediately consult a doctor. Social distancing norms are also to be followed by passengers while interstate bus journeys. Make sure to carry your blanket/linen while travelling on interstate buses in Malaysia. Some of the bus operators in Malaysia have stopped providing blankets for the time being due to the COVID scenario. You can also refer to the Malaysian government's interstate travel advisory to know more about the passenger duties and guidelines.
In a nutshell
After the resumption of interstate travel, the Malaysian government is looking to allow foreign tourists in Malaysia that have completed their vaccination process. You can now choose a reliable online bus ticket booking platform and can book affordable bus tickets to various states in Malaysia. Interstate buses in Malaysia are available at frequent hours throughout the day at affordable rates. Besides choosing a reliable bus operator and e-ticketing platform, passengers should also follow various safety guidelines during interstate travel. Travel safely to various states in Malaysia by bus!