Movement Control Order (MCO) in Malaysia
What is MCO?


On March 18 (2020), the Malaysian government implemented the MCO or the movement control order that restricted the movement of people during the COVID pandemic in the country. At first, the MCO was in effect until April 14 (2020), but due to a surge in COVID cases, it was extended to April 30 (2020). PDRM (Royal Malaysia Police) was responsible for ensuring MCO across various states of the country.


The restrictions implemented under the MCO by the authorities are as follows:


Mass movement and gatherings across the country were suspended. All types of religious activities, sports, and cultural events were not allowed.
Travel from foreign countries was suspended under the MCO. Cross-border bus services were also suspended.
All public and private educational institutions were closed.
The Malaysian residents returning to their country during the MCO period had to undergo a health check-up. A 14-day quarantine followed the compulsory check-up. Self-quarantine at home was also allowed by the authorities.
All government and private organisations were told to stop their services during the MCO. Only those people/organisations that were involved in essential services (electricity, fuel, banking, pharmacy, health, etc.) were allowed to operate.


Various roadblocks around the country were installed during this period. All inter-state and cross-border bus services were suspended as people were only allowed to travel for essential reasons.


On April 10 (2020), the Malaysian government permitted only selected businesses to operate to ensure stability in the country's economy. Social distancing measures were also implemented across the country, and people could only travel for essential reasons like health, funeral, food purchase, etc. From April 1, the food markets and supermarkets were allowed to open from 8 AM to 8 PM.


The MCO guidelines changed for some states in Malaysia. For example, in Sarawak, food services and supermarkets were allowed to operate from 7 AM to 7 PM. This decision was taken due to the early daylight time experienced in West Malaysia. On May 1 (2020), the MCO was replaced by CMCO.


What were the guidelines under CMCO?


The Malaysian government eased the lockdown restrictions under the CMCO (Conditional Movement Control Order), which was to last until June 9 (2020). CMCO was implemented to reopen the national economy with restrictions. Some of the Malaysian states decided not to impose CMCO as they continued with MCO. The Malaysian areas that implemented CMCO eased various restrictions for people. The guidelines under the CMCO issued by the authorities were as follows:


Bus services within Malaysia were allowed but only for certain types of passengers. People going to work or returning home from other states were only allowed for interstate bus travel. The bus services within Malaysia were operational at a limited capacity. Bus operators had to follow various safety measures as per the government orders like social distancing, sanitisation of buses, etc.
Sports activities that do not involve more than ten people or body touching were allowed during the CMCO period. However, no crowd was allowed in the sports events organised during this period.
Various economic sections were allowed to operate, but they had to maintain social distancing measures at their workplaces.


The implementation of CMCO was to be decided by the respective state authorities in Malaysia. Various states like Kedah, Kelantan, Pahang, Sabah, etc., opted not to implement CMCO due to the COVID pandemic. On June 10 (2020), the CMCO was converted into RMCO based on the COVID scenario in the country during that period.


What were the guidelines under RMCO?


Nationwide RMCO (Recovery Movement Control Order) was implemented from June 9 to December 31 (2020). Not all states implemented RMCO immediately, as some were still under EMCO or CMCO. The decision to implement RMCO state-wise was left to the respective state authorities based on the number of COVID cases in the state. RMCO focused on reviving various sectors of the economy that were shut due to the COVID pandemic. The guidelines issued by the government under RMCO are as follows:


The interstate travel by bus was allowed under RMCO but only to/from states under RMCO. One could not travel to/from states that were still under CMCO or EMCO. Travel within the state was also permitted.
Religious activities/gatherings were allowed under RMCO but with restrictions that limited the number of persons.
All types of tourist activities, spas, arts & culture centres, etc., were allowed to operate within the SOP (Standard Operating Procedure).
From July 1, all schools and universities were allowed to open.


From October 14 (2020), certain parts of Malaysia, like Kuala Lumpur, were placed under the CMCO again. The decision to revoke CMCO in certain regions was taken due to the third wave of COVID pandemic in the country. In January and February (2021), MCO 2.0 was implemented in various states like Malacca, Johor, Penang, Selangor, etc. MCO 2.0 was introduced due to the sudden rise in the number of active COVID cases. Unrestricted inter-state bus travel resumed on December 7 (2020) but only for areas that recovered from the pandemic.


What is EMCO?


EMCO (Enhanced Movement Control Order) was implemented in only a few areas from March 27 (2020) based on the number of active COVID cases. The government of Malaysia had identified COVID hotspots to implement EMCO for a short period in those areas. It is the strictest movement control order in Malaysia. The guidelines followed under EMCO are as follows:


All residents under the EMCO areas were strictly not allowed to exit their houses. Food supplies were delivered by the authorities from door to door in EMCO areas.
All types of bus services were suspended in the EMCO areas.
All roads leading to the EMCO area were blocked, and a medical camp was established within the area.
All types of businesses were not allowed to operate in EMCO areas. No visitors were allowed to enter an EMCO area as per the orders.


Some areas were also under SEMCO (Semi Enhanced Movement Control Order) that restricted the movement of people and transportation services.


Latest Update


MCO has been extended to last until the number of covid cases fall below 4000 per day. EMCO has been implemented in some parts as well.

During this lockdown, various guidelines have been issued by the government to curb the spread of coronavirus. With regards to bus travel, it is allowed at 50% capacity, provided all SOPs are followed.

The government has announced relaxations for fully vaccinated people in states under Phase 2 and above of the NRP (National Recovery Plan). From October 11 2021, interstate and international travel has been permitted for fully vaccinated people in the country.


How to travel safely in Malaysia?


Buses are the most accessible and safe way to travel to different locations in Malaysia. Booking bus tickets online is the best way to avoid the crowd at physical ticket booking counters.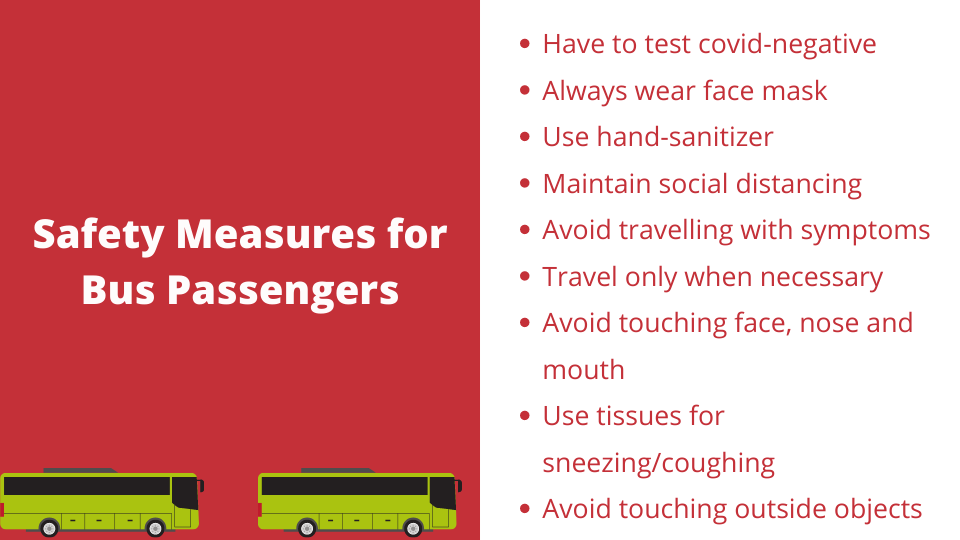 One should always book bus tickets with an operator that ensures passenger safety during the Malaysia MCO. When you book online bus tickets with a reliable bus booking site, you can see the list of precautions taken by the different bus operators against the virus. Passenger guidelines like wearing a mask, maintain hand hygiene, etc., should also be followed by travellers. If you are experiencing any COVID-related symptoms, then rush to the nearest hospital and avoid travelling by bus.