Promotions and Offers
Promotions and Offers:
It is very simple to view the wide range of offers and promotions that are made available on the online bus booking platforms. Ranging from cashback to earning money through referrals, several online bus ticket platforms offer a number of ways to ensure that a customer books their bus ticket without feeling the pinch of a pricey ticket. Thankfully, with these offers and bus ticket promo codes, customers can experience the comfort and joy of traveling on a luxury bus by purchasing a bus ticket online.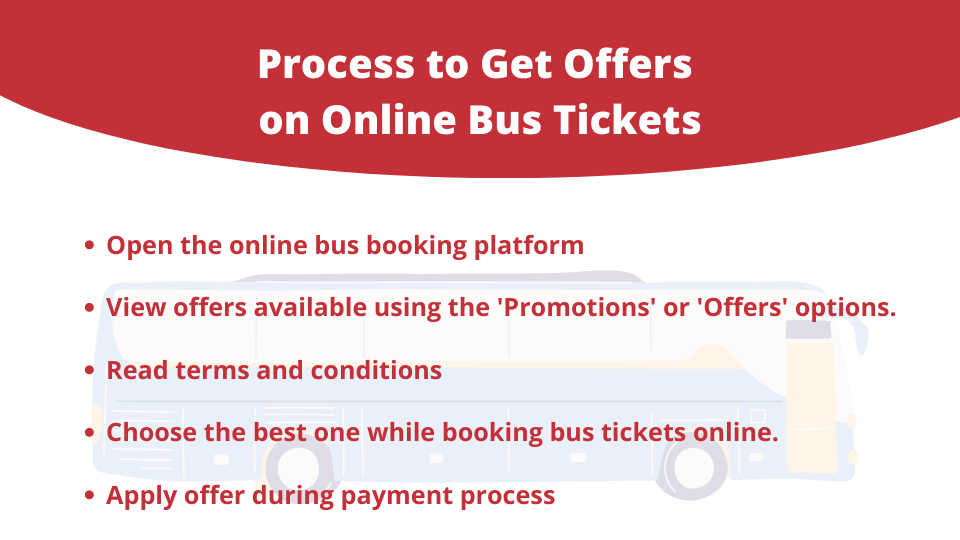 To avail an offer or cashback option on these portals, one can follow these steps:
Download the official app off of Google Play Store (Android Users) or the Apple App Store (iOS Users)

Open the app and log in to your account

Scroll to the bottom of the screen where you will find the "Offers" tab

You can scroll from left to right to view a range of various promotions and offers that are displayed that range from earnings received from referrals to cashback options

Scroll and select the one that best fits your needs and requirements
You can even click on the "My Account" tab that's located on the bottom-right of the app. Once here, there will be a list of options displayed here. Click on "Offers" to view various options that can save you a few Malaysian ringgits. Read the terms and conditions carefully before selecting an offer.
Promotions and Offers on website:
There are several user-friendly and interactive platforms designed to ensure that customers can easily navigate through the website while they search and find the best bus booking options for their needs and avail the best bus discount code. Follow the steps below to find the best offers for you:
Visit the bus tickets online website and log in.

When you land on the homepage, you will be able to see the offers displayed on your screen.

Scroll horizontally to view the various offers and promotions that are displayed here.

Click on the offer to view the particulars of that offer along with the terms and conditions that are tied with that particular offer
It is not a requirement that you have to create an account to book a bus ticket, but if you would like to view and avail a broad range of offers, it is advisable to create an account before booking your bus ticket.
*Disclaimer: Offers are susceptible to change. Download the app for bus ticket online booking or visit the website to know more about the updated offers, promotions, and cashback options that are available.