Which are the popular travel locations in Malaysia?
If you are wondering where to go in Malaysia, then you cannot miss out on visiting some of the popular travel locations in the country. Not only will a trip to help you experience a part of quintessential Asia, but it will also show you how the old and new have met in perfect harmony. Add the impeccable infrastructure of the country, and you have yourself a holiday potpourri.
Let's look at some of the best places to visit in Malaysia and its most famous landmarks, eateries, and food trails that best showcase Malaysia's unique culture, beauty, and diversity. Simply book your bus ticket online to these locations and head off to these wonderful destinations!

Best Places to Visit in Malaysia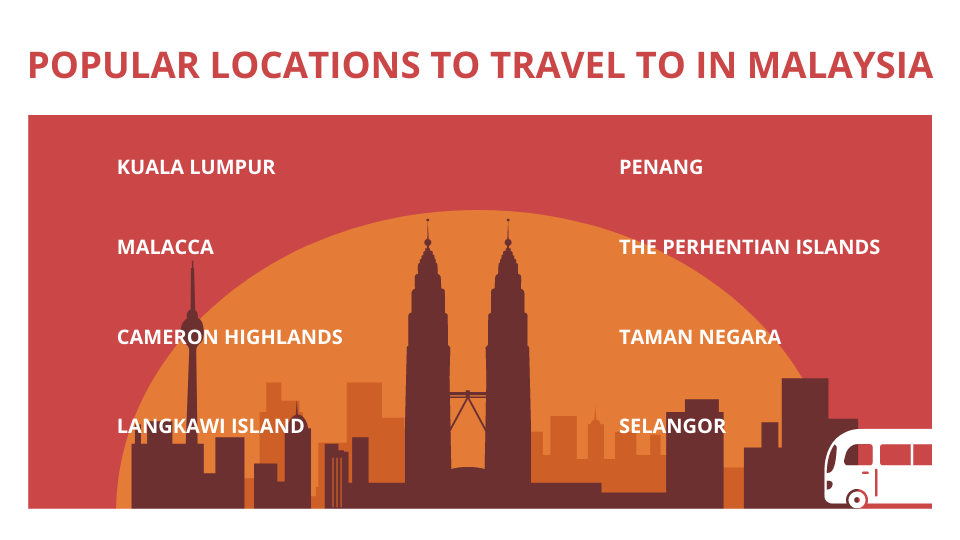 Kuala Lumpur
No trip to Malaysia is complete without a sojourn in the capital. Although most tourists like to leave the town far behind, Kuala Lumpur is in fact, a very different story. Being a worthwhile destination of its own, the city is populated with a varied mix of Malay, Indian, and Chinese influences. The world-famous Petronas Towers are also located here that is truly a sight to behold. Other places of interest and attractions inside Kuala Lumour would include places like the Perdana Lake Gardens, the Menara KL Tower, etc. that provide plenty of fun and entertainment to visitors. You can easily take the KLIA Express to book bus tickets that cost around RM 9 to take you to the city center from the airport.
Penang
A big island on the west coast, the colonial city of Georgetown in Penang was finally declared as a UNESCO World Heritage Site a few years back. Being one of the older parts of the country, there are a lot of museums, historic homes, and forts all around. If you are not into art or history, then you will be pleased to know that Penang has a very active, globally famous food scene. Comprising of some fantastic trails, you will be able to find some delectable and unique cuisines that you will not find anywhere else. Getting to Penang isn't a hassle as you will get lots of sleeper buses if you are coming in from Kuala Lumpur. With an average bus ticket costs around RM 8, the bus should drop you at Sungai Nibong bus station.
The Perhentian Islands
A paradise for backpackers and travelers on tight budgets, the Perhentian Islands are a tourist magnet. The most popular of the islands in this chain is surprisingly the smallest, Perhentian Kecil, which has some very fine sand, and some excellent diving/snorkeling facilities. If, however, you are visiting the islands with family and kids, then head to the larger one, Perhentian Besar, which is more suitable. Getting to the islands is very easy as this can be done by ferry and you can reach in no time. You can book your ferry ticket online easily to Perhentian islands. To reach the ferry terminal, book your bus tickets in advance.

Malacca
Pronounced as "Melaka," this is Malaysia's Peranakan city and is a brilliant place to stop in your Southeast Asian sojourn. Made famous by colonial sites, a rich history, and a grand culture, the city of Malacca has been declared as a World Heritage Site in 2008. The vibes around the city are very relaxed and if you are coming in from the nearest metro city, Kuala Lumpur, then bus tickets will cost around RM 28 and the distance will take a little over an hour depending on traffic conditions. It will be cheaper overall and you can spend some nice time exploring the old city that is filled with museums and shops.
Taman Negara
With the literal meaning of "National Park" in Malay, Taman Negara is Malaysia's oldest national park. Not only that, but the area is also one of the world's oldest tropical rainforests. Traveling to Taman Negara is also fairly simple as a bus is the cheapest form of travel. Catch one from Kuala Lumpur or avail a shuttle service. From Kuala Lumpur, you will arrive at Jerantut from where you need to take what's called a Jungle bus to get to the park. From majestic waterfalls to some fantastic activities like bird watching, rafting, etc, Taman Negara is a must-visit.
Cameron Highlands
Strawberry farms, butterfly gardens, and plantations are just some of the attractions in the Cameron Highlands. It is also the only place in Malaysia that will make you miss a jacket if you aren't already carrying one. Several buses depart from Kuala Lumpur and bus tickets are reasonably priced. If you love nature, then Cameron Highlands is the perfect place for you with lush green fields, beautiful tea plantations, and some fantastic hiking trails that you will remember forever.
Selangor
One of the country's most populated states, Selangor is a magnet for both locals and tourists. Owing to the ease of travel from Kuala Lumpur, the journey takes about 40 to 45 mins to complete. Probably the most famous attractions in the city would be the Formula One racetrack along with the National Zoo of Malaysia. If you are traveling with family, then there are enormous theme parks that include an indoor snow park. If theme parks don't get your blood pumping, then head to the famous Batu Caves that are also home to the shrine of Lord Murugan, a Hindu deity. Try planning the entire trip early so you can get an accommodation at the First World Hotel & Plaza that has over 7,000 rooms and a theme park!
Langkawi Island
Another brilliant location in Malaysia, the Langkawi Islands are a popular destination for couples and families. Home to the Langkawi Geopark, a UNESCO heritage site, the region is the perfect manifestation of how the country has protected its geological wonders. You can easily get yourself onto a bus from Kuala Lumpur that will drop you at Kuala Perlis from where you need to hop on to a ferry that will finally take you to the island. Once there, take the cable car to scope out the island before making concrete plans.
From Langkawi, you can also book a Bundhaya Speed Boat ferry and take off to the wonderful Koh Lipe islands!
As you can see, Malaysia is a potpourri of fantastic locations and brilliant places of interest that you will find nowhere else in the world. Irrespective of whether you are a budget traveler or person who's looking to splurge, Malaysia is the perfect destination to explore the best of Southeast Asian culture. With several food trails across all the places mentioned above, you can go bar hopping while trying out the various types of cuisine available or settle for a quiet evening by the sea.
Disclaimer: Fares, routes, and bus operators are subject to change from time to time. Please visit the official website of Bus Tickets Online to stay up to date.