How to Plan a Bus Trip in Malaysia
Planning a bus trip in Malaysia is one of the best ways to travel in the country. When you travel by bus, you can experience the culture and areas of the country that you would not otherwise get a chance to see.


Malaysia has a well-connected road transport network, and buses are the most economical means of travel. Frequent bus services are available from/to various Malaysian cities like Kuala Lumpur, Kuala Terengganu, Johor Bahru, Genting Highlands, etc. To plan a bus trip in Malaysia, follow the steps mentioned below -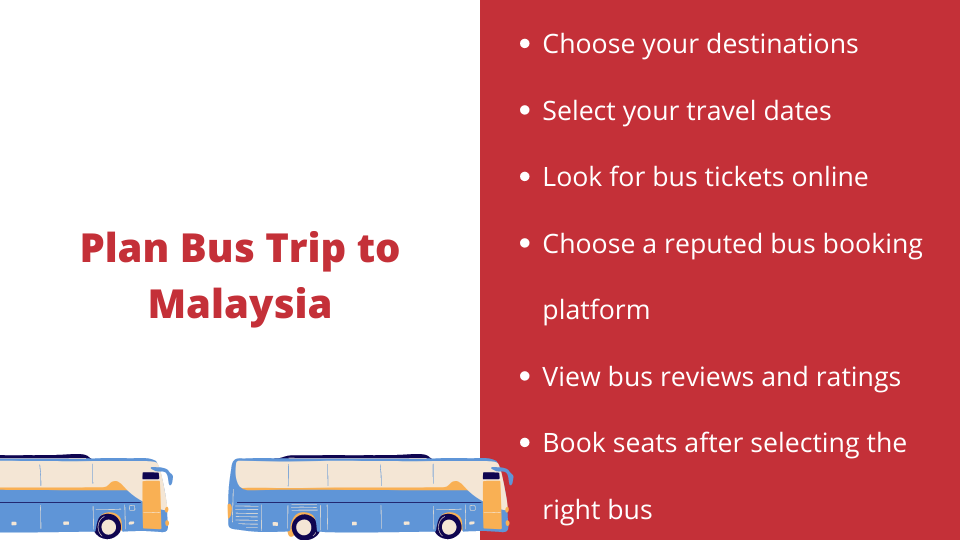 Choose your destinations


Before you book your buses, decide on the places you wish to visit in Malaysia. You can select destinations based on the attractions, food, culture, activities, etc., you want to experience. Once you choose the places, you will be able to identify the routes you have to travel on.


When it comes to bus travel, the bus frequency and flexibility make it easy for travellers to plan on destinations on the go as well. It is not a set rule that you have to plan your trip in advance.


Book bus tickets online


After you plan the places to visit, you can start planning your bus trip by searching for the available buses. The best way to do so would be online. There are online bus booking websites that allow people to search and book bus tickets online in advance.


Bus travel in Malaysia has become very easy thanks to the e-ticketing service providers. They can help you reduce the cost of your trip by way of offers and discounts on your ticket prices. In addition, reliable sites allow people to choose their seats in advance when they book a bus ticket online in Malaysia.


When you book online bus tickets in Malaysia, you can check the schedule and track your buses online. Also, the country has a well-connected network of bus stops/stations across various locations, and you can choose your drop-off point in a Malaysian city by booking bus online tickets.


Choose a trusted booking platform


To book bus tickets online safely, you have to choose a reliable booking platform. Booking tickets from bus counters can be a tedious process, and there is no guarantee that you will get a seat.


So, to ensure that you enjoy your planned bus trip, you should book bus tickets online. One should always choose a reliable online bus booking platform for planning their bus trip in Malaysia. An experienced and trusted platform will protect you from fraud while booking bus tickets. Choose a booking platform that has a strong privacy policy and payment system. One should not use a platform that offers an unencrypted online payment system.


A reliable bus booking platform does not imply any middleman charges on Malaysian bus tickets online. Also, it will provide you with your exact seat booked on a bus. A lot of people in Malaysia prefer online bus booking due to flexible services.


View ratings & reviews


It is essential to know the top bus operators while planning your bus trip in Malaysia. A reliable online bus booking platform lets you view the operator ratings, which helps you see the most preferred choice on any particular bus route. Referring to the reviews of previous passengers will give you insights about the bus operators. Choose an online booking platform that provides authentic user reviews/ratings from previous passengers to help you make the right choice. The top-rated bus operators on online platforms usually provide a comfortable travel experience.


Choose the right bus


Many bus operators are present in Malaysia, with some operating in multiple countries. You should choose the right type of bus suited for your bus travel in Malaysia to make your journey comfortable. For example, if your bus travel distance is long, you can choose sleeper buses for more comfort.


One advantage of online bus booking is that you can compare the various buses on a route based on price, time, type, duration, amenities, safety features, etc. It is always advised to compare and choose the one that best suits your bus travel plans.


Use coupon or discount offers


Reputable bus ticketing platforms provide exclusive deals and discounts to its users from time to time. One should look for any coupon code or offer while booking online bus tickets. Discounts and exclusive deals can lower your total ticketing cost while planning a bus trip in Malaysia. Choose a booking platform that connects to its users via social media platforms to convey the latest offers/deals.


While planning a bus trip in Malaysia, one should also view the amenities offered by various buses. Then, choose a bus that provides all the basic amenities on board and has a reasonable ticket price. When you plan a bus trip in Malaysia, be smart and make the best choices based on your budget.