Long-distance Bus Services in Malaysia
Malaysia is well known for its extensive network of roads and highways. There are train services and flight options to travel within Malaysia, but travelling by bus, specifically, the long-distance bus, is quite common.
The country has plenty of long-distance coach options with basic as well as luxurious amenities passengers can choose while booking bus tickets. Both locals and tourists choose such buses as cheaper than and can offer the same comfort and luxuries as taxis or flights. For this reason, tourists and business personnel make up for the significant share of customers for these long-distance buses either within Malaysia or that to Singapore.
The Long-Distance Routes
Interstate bus services that take more than 5 hrs or so could be considered as long-distance bus services. Malaysia has got plenty of long-distance travel routes that can take anywhere between 5-10 hrs of travel. The buses are available at regular intervals during the day as well as in the evening on most routes.
Buses seem to be the most preferred mode of transportation because train services for long-distance routes are not available.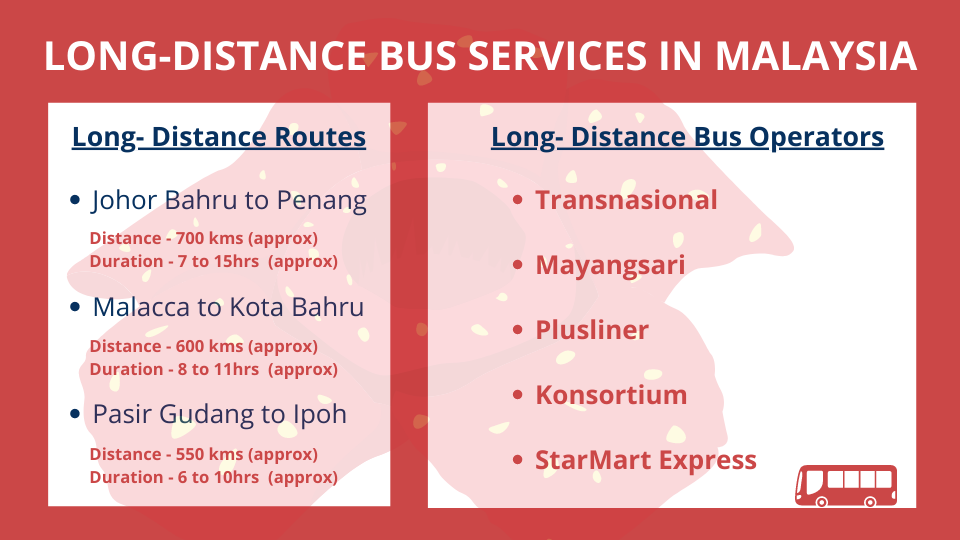 The examples of long-distance bus routes in Malaysia are -
Johor Bahru to Penang: The distance between these places is almost 700 km, and buses take around 7 hrs to as long as 15 hrs to reach the destination. Buses are available from 10 am till midnight.
Malacca to Kota Bharu: These two places are over 600 km apart, and it usually takes 8-11 hrs by bus to reach the destination. Buses are limited in number on this route and are available mainly in the evenings between 7.30 pm and 8 pm.
Pasir Gudang to Ipoh: The 550 km between these cities can be covered by 6-10 hrs by a long-distance bus. Buses are available from 10 am till 10.45 pm for this route.
Long-distance Bus operators in Malaysia
Plenty of buses are available in Malaysia, thanks to the bus operators. Still, not all bus operators provide a long-distance bus. There are enough long-distance bus companies with their fleet of buses plying at all possible timings, even during the night.
All long-distance buses have basic amenities such as AC, reclining seats, charging ports, storage facility etc. The amenities differ depending on the bus type and operator.
Some of the luxury bus companies in Malaysia are -
Transnasional
Transnasional is the cross-border bus service of TranStar Travel, known for its premium amenities such as personal TV, leather reclining chair with massage option, onboard snacks, etc. The popular cities they cover are Petaling Jaya, Genting Highlands, Singapore, Kuala Lumpur, etc. Besides this luxury bus, they also have five different types of buses with varying amenities and that suit the budget of one and all. Their services are available at any time of the day until midnight.
Mayang Sari
Mayangsari is one of the high-rated bus operators in Malaysia that offer services to cities such as Kuala Lumpur, Muar, Penang, Pontian, Kuala Perlis, etc. They have four types of bus services, including the SVIP buses. These buses are likely to have WiFi on board, among other facilities. Depending upon the routes, their services start at around 7 am and are available till 8-9 pm.
Plusliner
Plusliner is known as the 'King of Highways' and is quite popular among travellers. Their punctuality and affordable bus options have made them a reliable bus company. WiFi, reading lights, etc., are some of the luxury amenities one can expect on these buses. With four types of buses, their services are available in Kuala Lumpur, Ipoh, Putra Jaya, Kuala Perlis, Kuantan, etc.
Konsortium
Konsortium buses offer a homely experience for its travellers. They offer all the necessary amenities at a reasonable rate. This bus operator is among the highly rated companies in Peninsular Malaysia with punctual services and welcoming staff. They offer bus services in Kuala Lumpur, Simpang, Kuala Kangsar, Alor Setar etc. Their services are available from early morning till midnight.
StarMart Express
With over 30 years of experience, Starmart Express provides its services in Kuala Lumpur, Segamat, Melaka, and Singapore. What attracts the passengers to this bus operator is their economical bus fare which suits everyone. Having all the basic amenities, punctual services, and the option to choose the luxurious bus type, Starmart Express provides both day services and night buses.
Travelling by night bus in Malaysia
Malaysia is a fairly safe country to travel to alone. The road network and the availability of long-distance buses have made them a suitable travel option. The long-distance buses are available in the evening till midnight in many areas.
Buses travelling after 6 pm are usually considered as a night bus. Most routes have a last bus at around 8-9 pm while some popular city routes offer night buses late till midnight.
These night buses are a common option, sometimes the only resort, for the working-class who can come late and still catch a bus to their respective destinations. Travelling on a night bus will save you time and be more flexible with your schedule.
The online booking of long-distance bus tickets and other types of buses have come at a suitable time when people are adapting to the digital world. Opting for online bus booking allows users to browse through various choices and choose their most suitable option. It has also helped the tourists to plan their trip well ahead of time.
These factors have had a major influence on the popularity of the buses over the flights for travelling within Malaysia. When you get the same facilities to travel by road at a cheaper rate, people are more than willing to spend some extra time travelling and enjoy the luxuries.