Express Bus Services in Malaysia for Online Bus Booking
The express bus is the most preferred option among the public transport system. Apart from saving you more time than the regular buses it also provides utmost comfort while travelling. An express bus is the one that maintains punctuality and ensures that you reach the destination on time without spending too much time on the road or for anyone.


Most often, the express buses offer no-stop trips from the starting point to the destination, but at the same time, not all buses do the same. Yet, these buses have been the popular choice when it comes to booking bus tickets online.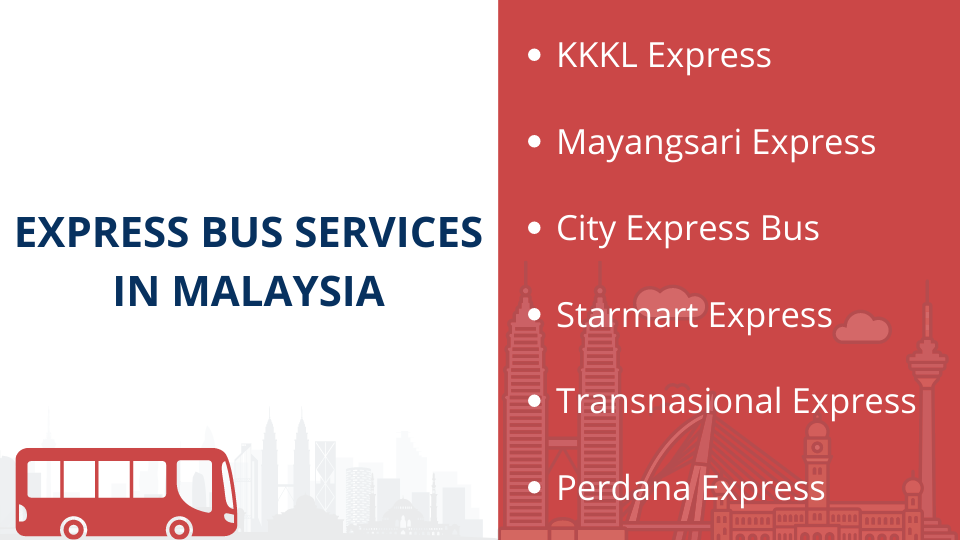 Express Bus Services in Malaysia to Book Online
These days express buses have been a popular choice when it comes to tourism. A vast majority of tourists prefer to book their tickets on an express bus so that they do not waste too much time travelling. They also get the chance to enjoy as much luxury as the buses offer, without having to spend too much.


Express buses are the popular choice of tourists in Malaysia and Singapore. The fact that the online bus tickets are available at cheaper rates and don't have to compromise too much on comfort is the main attractive factor.


Since these types of buses are getting popular and are attracting more people towards them, the bus operators in these countries have added a significant number of express buses to their fleet. While looking for these buses to book bus online tickets, look for popular bus operators who have made their mark in this arena. These buses are available in almost all the popular routes in Malaysia and between Singapore and Malaysia.


Top Express Bus Services in Malaysia
The beauty of travelling by bus is that it lets you enjoy the nature of the respective areas and gives you a real picture of any country and its culture. A bus journey is the cheapest option of all, but that doesn't mean that you travel cheaply. You can still travel in luxury and quickly by these express bus options that allow online booking of their services.


KKKL Express is among th ose popular express bus operators with modern buses and the latest amenities. This company has four types of express buses: single or double-decker buses, VIP buses, and First-class edition buses with just 18 seats for extreme comfort.


Their buses are available in Penang, Ipoh, Muar, Johor Bahru, Kuala Lumpur, Batu Pahat, Kota Bharu, Melaka etc. The common amenities that you can see in their buses are AC, reclining seats, central screen, GPS tracking and ample luggage, and leg spaces.


Mayangsari express buses are seen in Kuala Lumpur, Penang, Muar, Kuala Perlis, Merlimau, Portian areas. Apart from the local and interstate buses, they also serve a cross-nation Kuantan-Singapore route as well. These buses are most likely to have WiFi and charging sockets in addition to reclining seats, central TV, CCTV, reading lights etc., as the amenities. They also have a 2+1 seating arrangement.


City Express buses are available in different types, and the express buses include First-class buses and executive buses. These buses will have modern amenities, including the entertainment options of music and the latest movies. Their services are available throughout the day, right from the wee hours of 1 am till midnight. They connect the popular cities Kuala Lumpur, Johor Bahru, Penang, Shah Alam, etc.


StarMart Express buses are available in and around the city of Kuala Lumpur, Johor Bahru, Genting Highlands etc. They also have routes from Malaysia to Singapore. Apart from the seater and economy coaches, they also have the Super VIP luxury bus that will be super comfortable for longer trips. These buses offer water bottles to the passengers along with individual reading lights, reclining seats, charging ports, etc.


When it comes to express buses with luxury, Transnasional Express is likely to take the prize. With a bunch of luxury bus options and a wider network, this is one of the most sought after bus operators in Malaysia and that between Malaysia and Singapore.


They have five types of buses- business, standard, executive coach, economy club class, and business economy club. There are also many amenities between these buses, and it differs with the type of bus as well. The common amenities are reclining seats, WiFi, charging ports, reading lights, personal AC ports, GPS tracking, ample leg space, luggage space, hand sanitisers, etc.


These buses are available in the cities such as Kuala Lumpur, Johor Bahru, Malacca, Ipoh, Kangar, Kuantan, Mersing, Alor Setar, etc.


Perdana Express buses are popu lar in Kuala Lumpur, Putrajaya, Butterworth, Yong Peng, Muar, Kota Bharu, etc. They offer three types of buses in the categories- economy, double-decker, double-decker VIP. Depending upon the bus type, you may find reclining seats, WiFi, charging ports, central television, GPS tracking etc. Due to the pandemic, now all buses will provide hand sanitisers for the passengers.


Apart from the public transport system, Perdana Express is also available for pilgrimage trips for a group that will take you to the famous Mosques and temples in Malaysia.


Solo travel has been trending for a while, and travelling by bus is the best option for them. When you travel solo, you don't need to hire a taxi to be comfortable. Instead, you can travel luxuriously by express bus. It would make you comfortable and ensure that you don't waste too much time in between. The availability of express buses in all cities has made Malaysia a top destination for solo travellers.


With the variety of options to choose from and the convenience of bus ticket online booking, express buses are giving some tight competition to the local flights. Moreover, the bus operators strictly follow the guidelines to clean and sanitise the buses making them safe for all.