Luxury Coach Bus Tickets Online
Travelling in luxury is a dream of everyone. But not everyone gets the luxury of a first-class cabin on the flight. Some have to compromise on travelling by coach bus. The luxury coach is the answer for all those who seek to travel in luxury by bus where you get the same facilities as that on a flight!

Sounds bogus? Not at all! There are a bunch of bus operators working in Malaysia who offer such luxurious travel across the country and to the neighbouring country Singapore as well. What do they offer to rival a flight? Let's find out!

Luxury Bus Services in Malaysia

What makes a luxury bus apart from its counterpart, the regular or the express bus, is that it offers far more than what the others do. Other than the common reclining seats, charging ports, reading lights, and sometimes central TV, the luxury bus provides individual comfort features such as a separate TV for each passenger for their entertainment, sometimes hot meals or snacks onboard, that too served by a cabin crew!

Most of these features are unheard of anywhere other than the flights. Here, the luxury bus is literally bringing luxury down to the earth and has made it accessible for one and all. Bus services, in general, are the cheapest mode of transportation and travelling by such a luxury coach transport system is the best option for all who would like to enjoy the ride and be luxuriously comfortable.

Here are a few bus operators are known for their top-class luxury bus services in Malaysia and allow coach bus ticket online booking .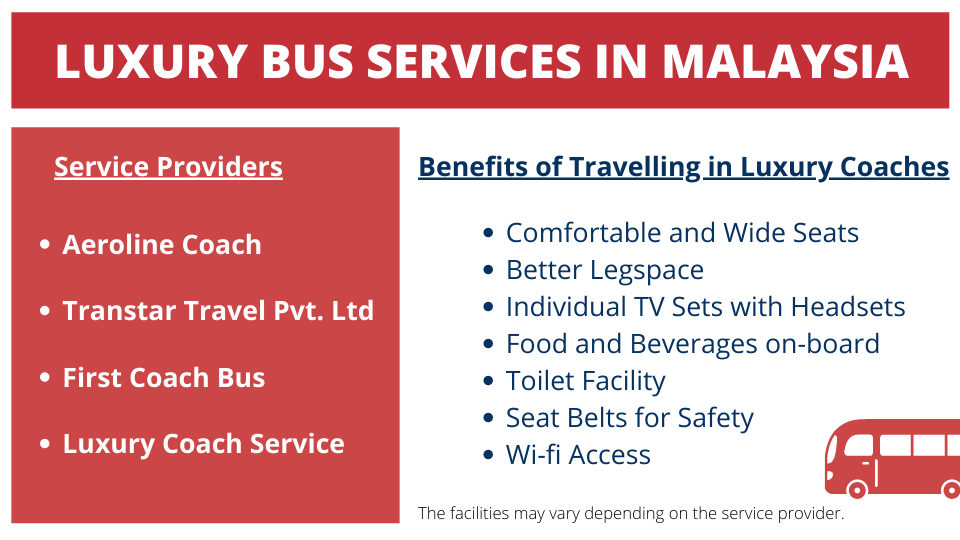 Aeroline Coach

Imagine a bus journey where you get to travel in wider leather seats with a blanket to be comfortable with a pillow for rest and an entertainment system at your disposal! This is exactly what you get when you travel with an Aeroline Coach in Malaysia.

These buses have wider seats with ample legroom for reclining comfortably. The individual TV sets come with a headset so that you don't disturb your fellow passengers.

To top it all, you will be welcomed on to this double-decker bus by a cabin crew who would later be serving you hot beverages and meals on the trip. Not to forget the toilet facility on board, you have luxurious flight travel on the road.

If you think that you will have to pay a lot to enjoy these, you are wrong. The general ticket rate is along the lines of RM 60-95 for one way.

Transtar Travel Pvt. Ltd

The First Class Coaches by Transtar Travel is one of the most luxurious buses. The coach has only 16 seats that are spacious for a comfortable journey. Every seat is a window seat except for the loveseat at the rear end of the bus, which is ideal for a couple.

The luxury doesn't end here. Each seat has a built-in massager should you need it. It also comes with individual 10" TV and headphone sets. You are free to surf through the various English or Asian movies available. The seats have seat belts for safety and a cabin crew to serve food and beverages onboard.

The services of such coaches are mainly available in Singapore-Genting Highland and KL-Singapore routes.

Firstcoach Bus

The Firstcoach buses have comfortable seats with reclining options with enough leg space to feel luxurious. The seats are made comfy and are arranged in the usual 2+1 manner. These buses may not be compared to the more luxurious, flight-like comfort level, but they are no less luxurious.

The buses of First Coach offer individual monitors, but it has a video-on-demand option. You get the movies and music options when you choose the same.

The luxury of travelling by this bus operator is also seen while you wait for the bus, where you get a free flow of beverages and unlimited WiFi access. The coaches have separate baggage counters so that you don't need to carry them with you.

Most importantly, Firstcoach bus services do not have separate bus rates for peak season and non-seasons. It is all the same with a range of RM 60-90 for adults for one way. Buying a return ticket would save you more money.

Luxury Coaches

Luxury coach service is available on the Singapore-Malacca route, where you have five trips per day. The buses have 37 seats with ample space for comfortable reclining and leg space without the confined feel. There will be food provided onboard. Some selected routes also have WiFi facilities without any additional charges.

For the Singapore-Malacca trip, the usual pick up point is the Concord Hotel in Orchard Road. These luxury buses are affordable for the public with their shorter route. The bus fare would be in the range of RM 70-120 per head.

Other benefits of luxury bus

In these luxury buses, you are not paying more for anything. In buses such as Aeroline, there is a unique and patented form of sanitisation happening. They have invented UVC rays for the sanitisation of the interiors, which they have also patented.

Most of these buses have seat belts which are not so common with the regular and express buses.

These buses are luxurious and comfortable for those travelling with kids, elders, etc. The larger seats add comfort without costing much. More importantly, you can book the bus ticket online without any physical contacts.

Luxury buses are common with business trips and many tourists. They can travel more comfortable during those long hours between the cities. The business folks get to sort out their work if they want to, and the tourists will be able to reach the destination and not feel too tired for the next stage of their vacation. After all, travelling in luxury has its perks!