Night Buses in Malaysia to Book Online
Malaysia is one of the most popular tourist destinations in the South-East Asian region, inviting tourists worldwide. Many travellers book night buses in Malaysia to travel within the country.
The Malaysian nation comprises parts of the Malay Peninsula and the Island of Borneo. Tourists usually prefer Malaysia for its aesthetic beaches, rainforest and other historical marvels. Booking a night bus online can ease your travel in the country. Malaysia has a mixed culture inspired by a mix of Indian, Chinese and European cultures. The capital city of Kuala Lumpur is home to colonial buildings with great historical importance. It is also known for its shopping malls and iconic skyscrapers.
Malaysian road transport infrastructure is very well-planned. All the cities are well-connected through bus transportation. If you visit Malaysia as a tourist, the best way to travel around the country is by buses. No matter what hour you are planning your travel, you will always get buses at regular intervals.
Night buses in Malaysia will help you easily travel to any destination. You can enjoy the nightlife in Kuala Lumpur, which is connected to all prominent locations. You can book a night bus ticket online through a reputed service provider and travel conveniently.
Prominent Bus Operators for Night Travel
One can easily opt for bus booking online from the most renowned bus operators in Malaysia. These operators have been in the industry for a long period and try to provide a convenient travel experience to a diverse range of customers. The buses are packed with all the necessary amenities required to make the customers' travel experience as smooth as possible. Most of these operators even provide night buses at frequent intervals so that customers can easily travel at any time.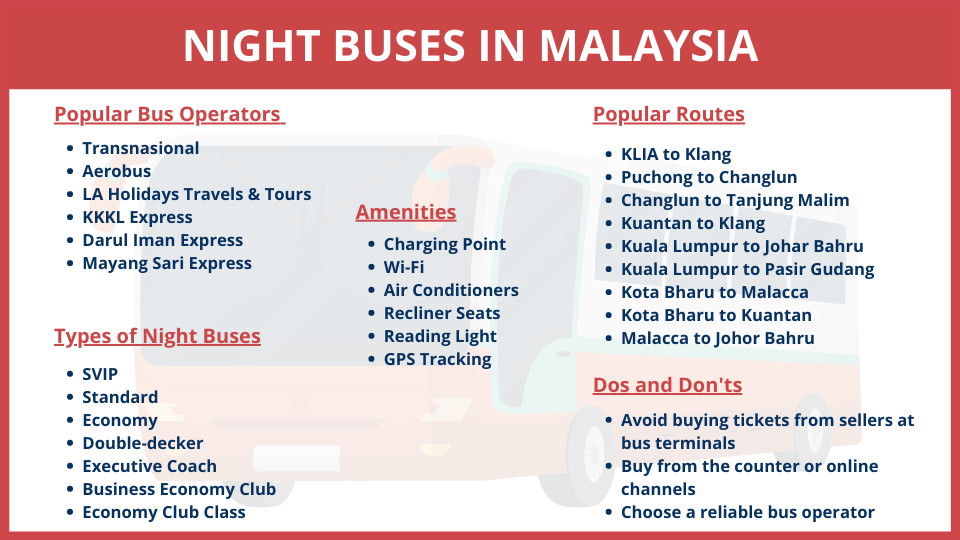 The most prominent operators that offer night bus services for multiple routes are -
Transnasional
Aerobus
LA Holidays Travels & Tours
KKKL Express
Darul Iman Express
Mayang Sari Express
Types of Buses Offered
There are various types of buses available for passengers to choose from. The buses available might vary depending on their travel routes, budget and operator. However, almost all the buses are well-equipped with the necessary amenities required to make the passengers' journey comfortable.
Some of the most commonly available types of night buses in Malaysia include the following.
SVIP
Standard
Economy
Double-decker
Executive Coach
Business Economy Club
Economy Club Class
Amenities Available on Night Buses
All reputed bus operators that provide night buses have maintained the same comfort and convenience that passengers in day buses enjoy. Almost all the buses are equipped with essential amenities required to make the journey pleasant and memorable for the passengers.
The range of amenities might vary depending on factors such as the type of bus operator and bus booked by you, your seating accommodation preference, budget, etc. Some of the most commonly available amenities include the following -
Charging Point
Wi-Fi
Air Conditioners
Recliner Seats
Reading Light
GPS Tracking
Frequently Travelled Routes
Malaysia is among the most beautiful places to visit in the South-East Asian region. From food to the cultural mix and colonial architecture, there's a lot that you can do here. It is widely popular among tourists who want to explore the beautiful beaches and other exciting places in this marvellous nation. One can easily travel to their preferred destination by making a bus booking online.
Some of the most frequently travelled bus routes for which night buses are available include -
KLIA to Klang
Puchong to Changlun
Changlun to Tanjung Malim
Kuantan to Klang
Kuala Lumpur to Johar Bahru
Kuala Lumpur to Pasir Gudang
Kota Bharu to Malacca
Kota Bharu to Kuantan
Malacca to Johor Bahru
Dos & Don'ts for Malaysia Bus Travel
Below is a list of best practices to follow that includes things to do and things to avoid when travelling in Malaysia by bus. These best practices will allow you to travel safely without spending a fortune, even during night hours.
Avoid buying tickets from sellers at bus terminals - One of the major 'Don'ts' includes avoiding sellers at the bus terminal in Malaysia. Night buses in Malaysia will seem expensive if you don't stop buying from random sellers at the bus terminals. Usually, these sellers will try to create a sense of urgency by saying that the buses are leaving in 5 minutes to popular destinations.
Buy from the counter or online channels - If you are not sure where to buy your tickets from for a night bus in Malaysia, visit the counter and inquire about buses going to your destination. You can purchase tickets from here as per your suitability in terms of timings and budget. Getting a bus ticket for popular destinations like KL, Genting, Ipoh, Johor Bahru, Penang, etc. is very easy as buses' frequency is usually higher.
Use bus ticketing online channels for discounts - You will enjoy better rates here for almost all prominent operators who provide late-night bus or overnight bus in Malaysia. You can even search for the timings of these buses easily using your mobile. It is far easier to find a bus stop at night online that will be best suitable for you. You can even search for a night bus to the airport online and get plenty of options to choose from.
Choose a reliable bus operator - Choosing a reliable bus operator can make all the difference in your bus travel experience. You can choose among some of the most reliable bus operators in Malaysia mentioned earlier to enjoy a comfortable night bus service. These operators take care of the passengers' safety and comfort and have buses that are equipped with all necessary amenities. You can book a night bus with all the prominent operators online safely. You will even have the option to choose the best one based on ratings and customer reviews if you book bus tickets online.