Online Bus Tickets Cancellation Process
One of the major benefits of booking online bus tickets is that cancelling bus tickets is possible in less than 5 mins if any changes in the plan occur. Most of the e-ticketing platforms also provide a refund after the bus ticket is cancelled. All this can be done without visiting physical ticket booking counters.
Many e-ticketing platforms offer personalised mobile applications that allow a user to cancel their bus tickets online and get refund of bus tickets. E-ticketing aids passengers in pre-planning their trip and saving their time by not waiting for any transportation medium.

When can you cancel bus tickets online?
You can cancel your online bus tickets only before the bus is scheduled to depart. If you cannot catch the bus, you must cancel your ticket in advance as no bus operator will cancel once the bus has left the pick-up point.
Bus operators cannot replace passengers if they have no information about a ticket being cancelled. Buses cannot stop to look for other passengers to fill seats, disturbing the travel duration. Passengers should try to cancel their bus tickets as early as possible to be eligible for a refund.
A passenger may cancel the bus ticket online in various circumstances. Some of the reasons for cancelling online bus tickets are as follows:
• If you have booked a ticket on the wrong bus (bus for some other route), you can cancel your tickets immediately.
• If you have booked a bus at the wrong time according to your travel time, you can cancel your bus ticket.
• If your travel plans have been postponed to another date, you can cancel your bus tickets to save as much as possible.
• Sometimes, a passenger is unable to reach the boarding point on time, so he/she has to cancel bus tickets online. However, if you are late by only a few minutes, you can contact the bus operator and request them to wait for a few minutes. It is not the liability of bus operators to wait beyond boarding time, but they extend their support in some cases.
Besides the reasons mentioned above, you can cancel your bus online ticket if you get a better deal on another bus. It is better to compare the services of various operators and choose accordingly. A reliable bus online ticketing platform will provide you with authentic bus services and keep you safe. To make it more economical for you, bus ticketing platforms can help you with all the amazing offers and discounts.
Step-by-step cancellation process for online bus tickets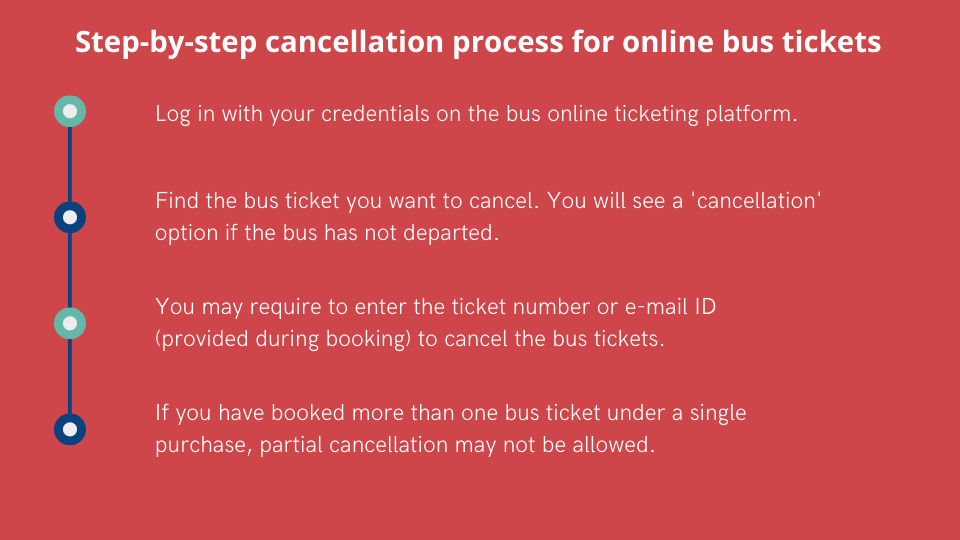 First of all, select a reliable e-ticketing platform that allows its users flexibility by offering a cancellation facility. Generally, you can cancel bus online tickets on the website or mobile application of an e-ticketing platform. Read the cancellation policy of the e-ticketing platform before cancelling bus tickets. The steps involved in cancelling online bus tickets are as follows:
• Log in with your credentials on the bus ticketing platform.
• Once you have logged in, see your booking history.
• Find the bus ticket you want to cancel. You will see a 'cancellation' option if the bus has not departed.
• Some e-ticketing platforms require users to enter the ticket number or e-mail ID (provided during booking) to cancel the bus tickets. You will find the ticket number on the confirmation sent to you via SMS/mail.
• Note that if you have booked more than one bus ticket under a single purchase from any e-ticketing platform, partial cancellation is usually not allowed. Either you cancel all the tickets, or you cancel none.
The above is a generic overview of the online bus ticket cancellation process followed by most of the e-ticketing platforms. The cancellation process is different for different online bus ticket booking platforms. Some service providers also allow cancellation facilities by contacting their respective customer support executives. Reliable e-ticketing platforms provide 24*7 customer support to their users/passengers.

Refund Policy
The refund policy depends on an e-ticketing platform as well as the bus operator. The earlier you cancel your bus tickets, the higher the refund amount. Generally, a fee is deducted while refunding bus ticket amount as a 100% refund is not entertained. The refund amount is sent to the source (bank account, e-wallet, etc.) used to pay the bus ticket amount.
Usually, e-ticketing platforms allow the cancellation of online bus tickets 24 hours prior to the journey, so they get ample time to compensate for the cancelled seat. It is recommended to refer to the service provider's refund policy before the bus booking is made.
A minimum amount of penalty is definite to be deducted while refunding the bus ticket amount. Most e-ticketing platforms charge 15% of the total ticketing amount and refund the rest. It may take a few business days for the refund to reflect in the passenger's account.
You can contact your respective e-ticketing platform for any issue/complaints with your refund process. The e-ticketing platforms have a well-organised refund policy that the users can read during the online bus booking process. It is better to be informed beforehand to avoid any confusion while heading for online bus ticket cancellation. The refund policy sometimes also changes according to the bus operators as some operators deduct a greater amount if you cancel their bus tickets. There are also non-refundable tickets.
The online bus booking process has many benefits, the major one being the flexibility to cancel tickets anytime. One should also know that the amount already deducted from the total ticketing cost due to applying coupon codes or any other discount is not refunded. The refund paid is a percentage of the amount that you paid to the service provider.
Note : Choose a reliable e-ticketing platform that allows users to cancel bus tickets and offers a refund. Also, there are chances that the policies may change with time. Always check the policies before ticket booking.