Guide to Public Transport in Malaysia
Malaysia is a famous tourist country in Southeast Asia with a robust road transport network. Flights and ferry services are also available from Malaysia to various domestic and international locations. Using public transport in Malaysia rather than renting or driving a vehicle is hassle-free and economical. The public transport network in Malaysia is diverse and robust due to various transit points and well-connected roads. It is better to use public transport for travelling to various places inside Malaysia.


Public Transportation Mediums
There are various types of public transportation mediums in Malaysia. Let us see the various types of transport mediums in Malaysia and discuss the top public transportation medium.

Trains – Various lines and networks are available for trains in Malaysia. The top train operators in Malaysia are KTBM (for Peninsular Malaysia), SSR (for the Sabah region), and Rapid KL (for Kuala Lumpur and neighbouring cities).


Buses – Buses are a major part of public transportation in Malaysia. All locations in Malaysia are covered by buses due to the presence of many bus operators. Bus services from Malaysia are also available to neighbouring countries.


Taxis – You can also get a taxi for travelling from one location to another in Malaysia. However, taxis are widely used for travelling to local places inside any city. Travelling long distances by taxi can result in high fare charges.


Trishaws – Three-wheeled trishaws are also a major form of transportation in Malaysia. Their fare charges are low but can only be used for travelling to local or short distances.


Airways – Many companies in Malaysia provide domestic flight services from/to various Malaysian states. Flights are the fastest way to reach any location in Malaysia but have high fare charges.


Ferries – Various operators in Malaysia also provide ferries to various islands. However, the ferry services are limited and are only available on location near the shore. Only a limited number of ferry operators are available in Malaysia operating near shorelines.


Why buses are the best transportation medium?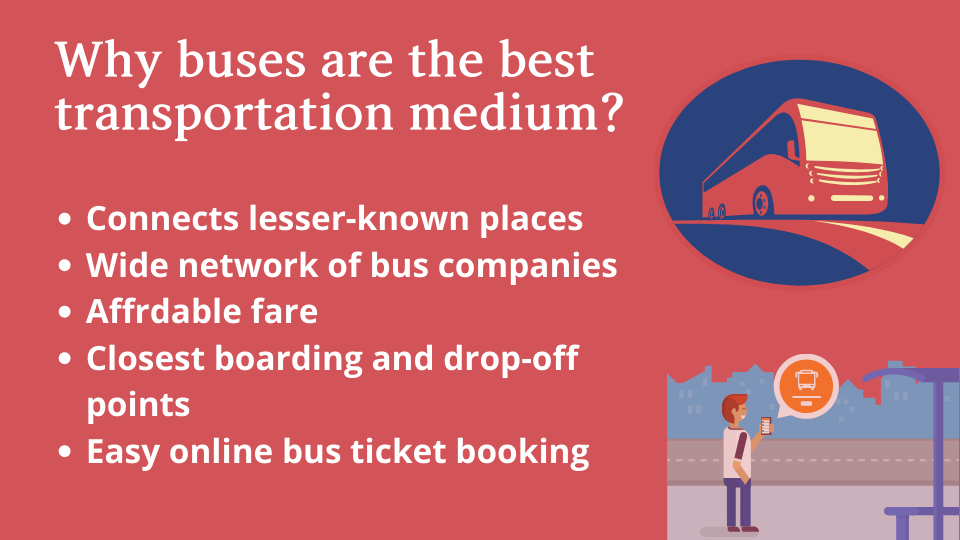 Bus services are expanded toward every region of Malaysia, connecting passengers with various cities and towns. Bus services are also available for some lesser-known locations in Malaysia that are not served by flights, taxis, ferries, etc. The presence of various experienced bus operators in Malaysia leads to the availability of robust bus services. Some of the top bus operators in Malaysia are StarMart Express, Causeway Link, Plusliner, Sani Express, KPB Express, Cepat Express, Cosmic Express, etc.


The bus fares in Malaysia are much lower as compared to flight or car rental charges. The presence of various bus amenities onboard also adds to the passenger convenience. You can select various local places as your boarding/drop-off point by travelling via bus. Malaysia has a lot of bus stations and stops that the government well manages. The presence of various bus stations and stops makes it easy for the operators to provide buses to passengers.


Bus ticketing websites can be used to book Malaysia bus tickets. It is also beneficial as it allows you to avoid the crowd at booking counters. Local transport services can be easily availed of by e-ticketing platforms. Online bus ticket booking will help you compare the prices of various buses and choose an affordable one. The domestic bus services in Malaysia have been resumed as per the government orders. While other transportation mediums are still not operating at full capacity, local buses in Malaysia are helping people to travel.


Bus Network in Malaysia
Before booking online bus tickets, make sure you choose a reliable e-ticketing platform. You may not want to go for unrecognised or spam platforms as they will not provide the best services. The bus network in Malaysia is robust as you can find public buses at frequent intervals to various locations. Most of the local buses in the Peninsular Malaysia region are equipped with air conditioners and a central television to facilitate the passengers.


Only some operators like Aeroline offer a toilet onboard. However, buses stop at various points in between the journey for passenger convenience. You can also book a public bus for longer routes like Peninsular Malaysia to the Sabah region. It is better to go for 'Standard' or 'Executive' coaches for longer routes as they offer better facilities. Luxury public buses in Malaysia have recline-able seats (bed seats).


The well-organised road network of Malaysia supports public bus transportation. Spread across 250,023 KM, the roads of Malaysia are well-connected with each other. The North-South Expressway (800 KM long) is the longest highway in Malaysia and connects the cities near the Thai Border to Singapore and cities in between. Other highways in Malaysia like the East – Coast Highway, MEC Highway, Tun Razak Highway, etc., are also important parts of the Malaysian road network. Public bus transportation in Malaysia is easy to find and provides passengers with more options. You can choose from buses of various operators for the same bus route.


Many tourists and daily commuters prefer to travel by local bus in Malaysia due to on-time services. The best way to access public bus transportation services in Malaysia is via a reputed bus ticket online booking platform. Public transport is much better than renting a vehicle in Malaysia as you don't have to worry about the route & driving. Book a Malaysian local bus online for your journey!