How to book a bus ticket for a Popular Bus Route in Malaysia?
You're at the right place when you are looking for bus tickets or bus travel in Malaysia. With the ability to book bus tickets online or reserve directly with operators, traveling through the country on a bus is one of the cheapest and easiest modes of transport. In addition to this, there is never dearth of express buses and luxury coaches to travel by in Malaysia. There are over 1800 bus operators you can choose to travel with while booking online bus tickets . Several popular bus companies travel on the most popular routes like Kuala Lumpur to Penang, Kuala Lumpur to Johor Bahru, etc. Another reason why such routes are popular is mainly because these are famous places of interest that attract hundreds of thousands of tourists each year.
Some of these areas have national parks that are UNESCO World Heritage Sites, so people love to visit and explore them every year. Additionally, thanks to a lot of historical significance, antiquated shophouses, and unique culture, most of the bus tickets get sold out during the season, so plan your trip accordingly.
Although there are several routes frequented by tourists and locals alike, here are a few top ones for you to consider exploring as well:
Popular Bus Routes in Malaysia for Booking Bus Tickets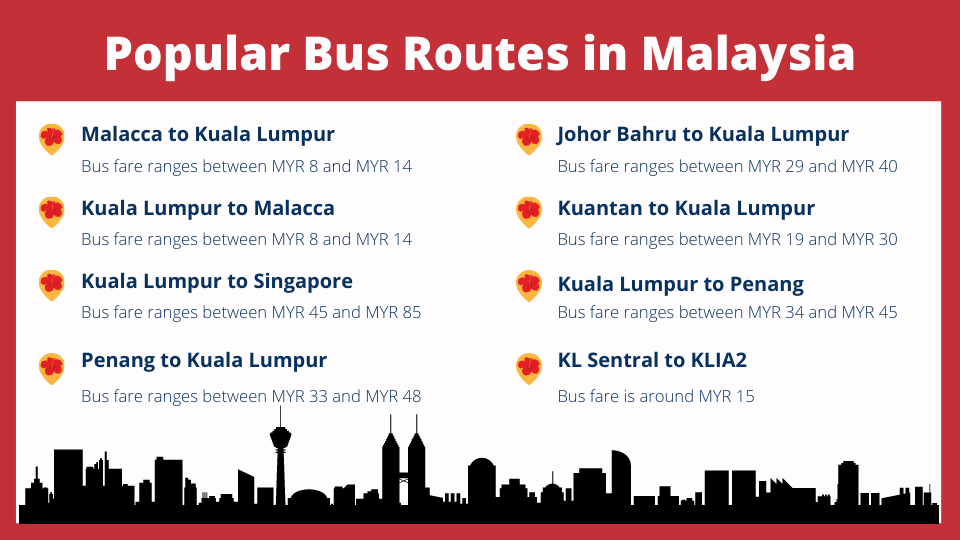 Bus from Malacca to Kuala Lumpur:

When you think of true blue adventuring, bus travel is perfect, because they can take you to the smallest of towns and vice versa. The bus route from Malacca to Kuala Lumpur is one such route that connects the small town of Malacca with the city of Kuala Lumpur. When it comes to this route, passengers will typically have to choose from a plethora of bus companies such as Express Kesatuan, Delima, SE Super Ekspres, and Transnasional. While Delima has several coaches that depart early morning at 8, they depart from Melaka Sentral Terminal that finally arrives at Kuala Lumpur's Terminal Bersepadu Selatan. Bus tickets will cost around RM 10 per head unless you go with Mayang Sari that charges anything between RM 10 RM 20 depending on your pick-up and drop location. The travel duration is a little over a couple of hours between the two towns.
Bus from Johor Bahru to Kuala Lumpur:

If you are looking to visit Kuala Lumpur, but you are staying in Johor Bahru, then the best way to travel would be by bus. This bus route takes a little over four hours to travel over 332 km. The pick-up point would be JB Larkin Bus Terminal and it will drop you off at Terminal Bersepadu Selatan. Bus tickets start at around RM 10 and you can either book your tickets at the terminal or pre-book using bus aggregator companies. Remember that if you book at the terminal, you might end up paying RM 50 and miss out on vouchers and discount coupons.
Bus from Kuala Lumpur to Singapore:

Both Kuala Lumpur and Singapore are excellent cities to visit on your sojourn with South-East Asia. Although a lot of tourists fly into Kuala Lumpur and then travel by road to Singapore, there are several budget ways you can travel on land itself. However, the cheapest and smartest way is to take advantage of the bus route from Kuala Lumpur to Singapore. You need to grab a taxi and head to KL Sentral where you will need to catch a train to Terminal Bersepadu Selatan to Bandar Tasik Selatan. From here, you will be able to book bus tickets for around RM 10 depending on where your drop-off point is. Yes, different bus companies will have different drop-off points in Singapore, so choose one that's closest to your hotel or residence. The average fare for a bus ticket if you are starting from Singapore to Kuala Lumpur would be around the RM 10 to RM 20 while the travel duration will be around 5 hours depending on traffic conditions.
Bus from Kuala Lumpur to Penang:

The best way to book bus tickets for this route would be online, and you can use any bus aggregator company like Bus Tickets Online. Be sure to select a pick-up point close to your hotel or you can just catch a bus from the terminus itself. The latter way, however, is slightly more expensive as you might need to pay a premium. On the other hand, if you have booked bus tickets online, you will need to pay around RM 39. The entire journey takes about 5 hours and you can get off at Butterworth from where a cheap ferry awaits that will take you to the island.
Bus from Kuantan to Kuala Lumpur:

Taking a bus from Kuantan to Kuala Lumpur is one of the most comfortable ways to travel. Compared to flights, it's not only cheaper but convenient as well. Believe it or not, the cheapest flight ticket will cost you more than the most expensive bus ticket from Kuantan to Kuala Lumpur. Your journey on this route will begin at Kuantan Sentral and should take about 3.5 hours to complete. Expect

bus tickets

costing around RM 20 to RM 30 depending on your pick-up and drop-off points.
Bus from Kuala Lumpur to Malacca:

Visiting Malacca should be on the bucket list of everyone wanting to explore Malaysia largely due to its rich history and food scenes. Getting there from Kuala Lumpur isn't a hassle as it's one of the most popular routes in the country. To catch a bus, you need to use the Monorail to get to Bersepadu Selatan where buses leave for Malacca every 30 minutes or so. The journey lasts a little over two hours and can cost you anything between RM 10 and RM 20, depending on where you want to be dropped off.
Bus from KL Sentral to KLIA2:

Advance bus bookings along with secure payment options makes booking a bus ticket online very simple, especially when you're traveling from KL Sentral to KLIA2. Although you can take a cab as well, it will be quite expensive. The KL Sentral bus station is at the basement level of the terminus, and you can easily purchase a ticket for RM 12 per person. In case you have not made a booking, you can purchase tickets from the booths that open between 3:00 am and 12:30 am. Try getting on an Aerobus or a Skybus and you can make the journey in about 40 minutes.
Bus from Penang to Kuala Lumpur:

Penang is a cultural hotspot with its storytelling artwork and various famous food trails. Hence, a lot of tourists and locals flock this town, and most of them tend to arrive from Kuala Lumpur. This is because the bus routes from Penang to Kuala Lumpur and vice versa are packed with many bus companies offering seats across coach types. In Penang, one of the pick-up points is Komtar Station from where you can catch a bus that's bound for Kuala Lumpur. Tickets will cost you anything between RM 44 to RM 49, depending on which type of coach you have gone for. The journey will take you around 5 hours with one 20 min stop on the way.