Popular Bus Operators in Malaysia
With over a hundred bus companies conducting business in Malaysia, they serve over 200 towns and cities across the country. Every company has its own set of routes and schedules along with timetables, fares, and booking procedures. However, there are a few popular bus operators that are used by locals and tourists alike. Purchasing bus tickets from these bus companies is a hassle-free process and you can even purchase bus tickets online. Let's take a look at the names of some of the top bus companies operating in Malaysia: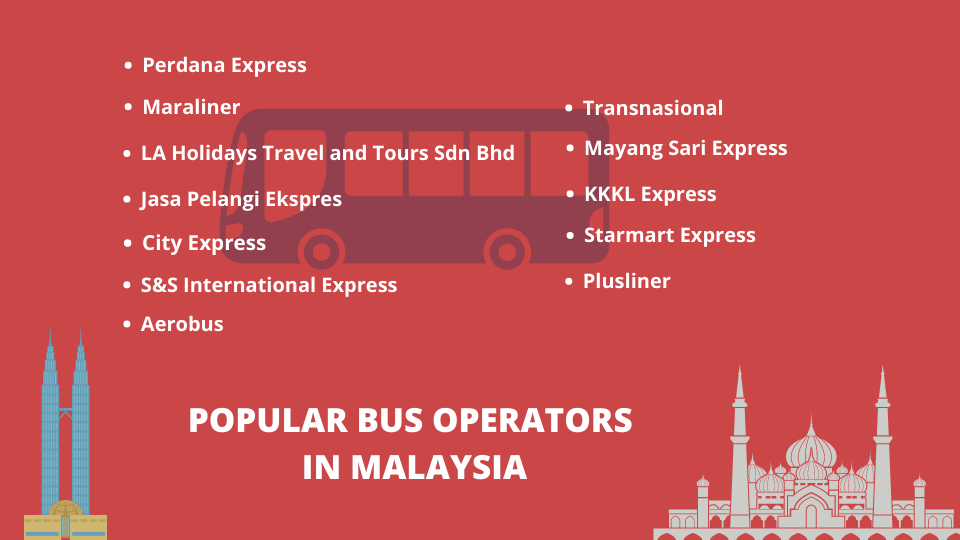 Popular Bus Operators
Transnasional
Transnasional is one of the best bus companies in Malaysia today. With punctuality, integrity, and value for money being part of their core ethics, the company made its debut in 2007. With several routes offered throughout Malaysia, Transnasional has several varieties of coaches ranging from standard, business, and executive class. The company employs a total of nearly 1,500 buses in its fleet that plies across 250 routes with more than a thousand trips daily. Some popular pick-up points for buses employed by the company would be Kallang Bahru, Golden Mile Complex, etc. With reasonable prices for bus tickets on their luxury buses, if you want to move and explore Malaysia, this bus operator would be a great choice.

Mayang Sari Express
Starting with just two buses in 1993, the Mayangsari Express bus company today commands over a hundred buses in its fleet. They began with the popular Muar to Johor Bahru to Kota Tinggi route and slowly branched out by applying for permits during festive seasons. This led to a healthy growth in its customer base and offered passengers with comfortable journeys priced very competitively in the market. The company operates on popular routes such as the Johor to Alor Setar route, Johor to Pulau Pinang, etc. If you are looking to travel in a luxury coach without emptying your wallet, then the Mayang Sari Express bus company is your best choice.

KKKL Express
Offering a comprehensive range of popular bus routes throughout Malaysia, the KKKL Express bus company began its services way back in 1983. Today, it has over a hundred buses in its fleet that include coach types such as Super VIP air-conditioned express coaches, executive double-deckers, and single high-deck express coaches. KKKL Express is renowned for its frequent and convenient routes connecting major cities such as Kuala Lumpur, Johor Bahru, and Singapore, making it a preferred choice for travelers in Malaysia. Their main destinations cover some of the most visited places of interest in Malaysia such as Peninsular Malaysia, and Hatyai to mention a couple. One of the most popular routes served by KKKL Express in Malaysia is the journey from Kuala Lumpur to Singapore, offering a convenient a nd efficient way for travelers to move between these two vibrant cities.With an all-round experience of nearly thirty years, you should purchase a KKKL bus online ticket if you wish to travel around Malaysia.
Bus Asia
Bus Asia, a prominent player in Malaysia's bus transportation sector, has been catering to the diverse travel needs of passengers since its establishment in 2003. With nearly two decades of experience, Bus Asia has earne d a solid reputation for providing safe and comfortable journeys. Their modern buses are equipped with 30 to 40 seats, offering ample space for passengers, whether traveling solo or in groups. One of their most sought-after routes is the journey from Kuala Lumpur to Penang , which showcases the picturesque landscapes of Malaysia. Passengers on this route experience the perfect blend of convenience and scenic beauty. Bus Asia's commitment to delivering quality services and a range of seating options has made them a preferred choice for both locals and tourists exploring Malaysia. With their track record of reliability and comfort, Bus Asia continues to set high standards in the country's bus transportation industry.

Starmart Express
Headquartered in Taiping, Perak, Starmart Express established its business in 1989 and there has been no looking back ever since. Offering routes across Peninsular Malaysia and Singapore, some of the most popular bus routes would be Singapore to Kuala Lumpur, Singapore to Malacca, Singapore to Penang, etc. Most of the coaches that are part of the Starmart Express bus fleet are single-deckers that have a total of around 27 seats. However, they are all equipped with air-conditioning, comfortable reclining seats, and spacious legroom. If you have a lot of luggage, then you are in luck as the coaches have extra undercarriage luggage compartments as well. What makes Starmart Express one of the best in the industry is their impeccable timing and competitive ticket pricing.

Plusliner
A member of the Konsortium Transnasional Berhad (KTB) group, the Plusliner bus company has been hailed as the King of Highway Expresses for nearly a decade now. Connecting major towns, the buses in its fleet cruise along Malaysia's major highways including Bukit Kayu Hitam. They have several modern and plush coaches in their fleet. Buses depart every 20 minutes. The coaches are colorful, clean, and air-conditioned for maximum comfort. Doesn't matter if you are traveling for business or leisure purposes, if you want to be on time, then go for Plusliner for all your travel needs inside Malaysia.

Perdana Express
Considered to be the crème de la crème of all bus operators operating in Malaysia, the Perdana Express bus company is headquartered in Kelantan, Malaysia. Providing top-of-the-line facilities and amenities, the company has also won the Anugerah Best Operator award by SPAD. Their core values revolve around punctuality, and they offer numerous routes that include places like Kota Bahru to Putrajaya, or Pasir Mas to Pasir Gudang. You will find the buses that operate between Butterworth and Kota Bharu that have pick-up points at Penang Sentral Bus Terminal and Sungai Nibong Bus Terminal. If you are in need of a bus to any of these places, then there are 2-4 buses that ply regularly, and you can purchase bus tickets online quite easily.

Maraliner
Owned by the Malaysian government, the Maraliner bus company is based out of Kuala Lumpur. Part of the Maraliner Group, which also consists of Travel & Ads along with MARA Liner Logistic. Being in the express bus industry for nearly 30 years, traveling with Maraliner is a journey filled with comfort and ease. Popular in the country as a bus express service operating routes in Peninsular Malaysia, they also offer routes to places between Shah Alam, Alor Setar, Kedah, Kuala Lumpur, and many more. The coaches that are employed by the company in their fleet come with 26 seats (Super VIP) and are equipped with air-conditioning and other facilities like reclining seats, spacious legroom, etc.

They are a licensed travel agency that offers all types of inbound travel-related services to people looking for budget travel packages. With over a hundred partners across Malaysia, the company has over 2k properties with buses plying to over 300 destinations. Services include express buses, coaches, airport transfers, etc, and you can book a trip on one of their express liners online.

City Express
Popular mostly due to the safety measures in place and punctuality, City Express bus company has several bus types in its fleet. Not only are they very punctual, but the ticket prices are very cheap. Established in 1989, they have grown into an agency that provides fantastic travel packages as well. With over 13 strategically located ticket counters, purchasing bus tickets online with City Express is a breeze. Some popular places that the 200-strong fleet of buses travel to would be Johor Bahru, Kuala Lumpur, etc.

Aerobus
A trusted choice among millions of customers thus far, Aerobus runs a fleet of more than 20 express buses. With over 50 daily trips, a staff of over 80 pax, and safety regulations according to SPAD, Aerobus is one of the best options to get to KLIA2/KLIA1 airport from KL Sentral. With customer-centric staff, purchasing a ticket with Aerobus is a breeze.

Save Up to 55% Off on Bus Ticket Bookings on Deepawali 2023
Save big on bookings done online on bus ticketing platforms on Deepawali 2023!
Enjoy up to 55% off when you book your preferred bus online, choosing from various bus routes, cities, and operators nationwide. Use code DEEPAVALI55*
*T&C applied

Disclaimer: The information provided here is subjected to change.