Popular Short Trips from Kuala Lumpur by Bus
Kuala Lumpur, the capital city of Malaysia, is a popular destination among tourists. With skyscrapers, landmarks, shopping malls, and flea markets, the city is an exciting destination for many. Kuala Lumpur, or as the locals call it, KL, is famous among tourists for the life it offers. People can go on short trips from Kuala Lumpur to various places nearby.


Popular Short Trips from Kuala Lumpur by Bus


While exploring Kuala Lumpur is very exciting, some people like to take short trips from Kuala Lumpur to explore other places in Malaysia. You can easily take a bus to reach any of these destinations. Thanks to online bus booking facilities, one can easily book bus tickets online these days.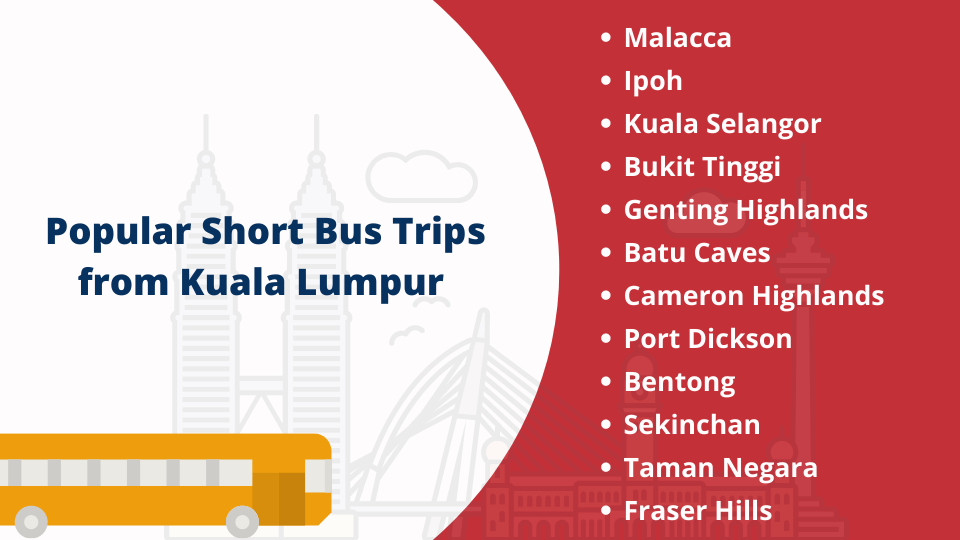 Some of the famous short trips away from Kuala Lumpur include -


Malacca, the UNESCO world heritage site, tops the popular KL getaways list. The place offers a rich insight into Malaysia's history with heritage buildings, ancient landmarks, and colonial structures. Malacca is filled with life throughout the day and gives tourists a unique night market experience at Jonker Street. The place provides a homely feeling to wanderers. Malacca is around 2 hours 15 minutes away by bus from Kuala Lumpur.


Ipoh is the next popular destination in the KL weekend getaways list. Known as the culinary hotspot among travellers, Ipoh offers an exotic taste to please the taste buds. Taugeh (bean sprout) chicken rice is quite famous here, along with the Ipoh White Coffee. Apart from being a foodies paradise, the streets are filled with street art and hidden temples. Ipoh is around 2.5 to 3 hours away by bus from KL.


Kuala Selangor, a coastal town in Malaysia, is a day trip from KL. It is a boat town on the Selangor river famous for the firefly view at night. It is spectacular to see the largest group of fireflies glowing in the dark. Weary travellers can enjoy the freshly prepared local seafood here. It is recommended to taste lala and sihan (cockles and clams) here. Don't forget to visit the Melawati Bird Sanctuary when you are in Kuala Selangor.


Bukit Tinggi is another short trip from Kuala Lumpur. Colmar Tropicale village is famous among tourists to experience the French culture in Malaysia. It is designed like a 16th-century French village paved with cobblestone streets and French bakeries. Another tourist attraction here is the Japanese Village. It is around an hour away from Kuala Lumpur by bus.


Genting Highlands, a hill station famous among travellers, is a popular short trip away from Kuala Lumpur. It is renowned for its casinos and resorts. You will find an outdoor/indoor theme park here equipped with a skydiving simulator, roller coasters, and other fun rides. The cable cars in Genting Highlands give a beautiful view of the rainforest. It is 58 km away from Kuala Lumpur takes an hour to reach by bus. You can easily book bus tickets online using a reliable bus e-ticketing service.


Batu Caves is a popular short trip from KL for tourists who wish to explore the cave temples and caves. It is dedicated to Lord Murugan and is one of the famous Hindu shrines outside India. However, the trip requires some planning as it involves walking 272 stairs to reach the top. You can take a bus from KL to go to Batu Caves.


Cameron Highlands provide solace and peace to travellers seeking refuge in nature. The place is famous for its weather, tea gardens, waterfalls, rivers, wildlife, etc. It is a perfect day trip from KL and is only 3.5 hours (approx.) away by bus.


Port Dickson is a beachside getaway from KL for travellers. If you love the sun, sand, and sea, this is the place for you. Port Dickson is a coastal town in Malaysia. The tourists can bike around, exploring colourful buildings and murals and snack on fresh seafood. It is approximately 60 km away from Kuala Lumpur.


Bentong is a quiet and peaceful town in the vicinity of Kuala Lumpur. For delicious food and nature retreats, Bentong is the best option for travellers. The local homemade ice cream and the pineapple puffs are very famous among tourists. It takes around an hour to reach Bentong from Kuala Lumpur via bus.


Sekinchan is a small town in Selangor, famous for its rice paddy fields and fishing village. Many travellers stop at the Sekinchan Wishing Tree to make a wish and to taste the fresh seafood. It is around 100 km away from Kuala Lumpur.


Taman Negara is a heaven for nature enthusiasts. It is rich in biodiversity with the rarest animals and oldest rainforests. Buses are the cheapest option to go to Taman Negara from KL.


Fraser Hills are famous for hiking trails, waterfalls, and unique species of birds. Some travellers visit this place to experience living in the colonial cottages in the jungle. It is around 2 hours away by bus from Kuala Lumpur.


Apart from the listed KL getaways, there are other places that you can explore. Putrajaya, Pulau Ketam, Janda Baik, Seremban, Temerloh, Batu Pahat, etc., are some other popular short trips from Kuala Lumpur. You can book bus tickets online to any of the Malaysian locations easily within a few minutes. Remember always to use reliable e-ticketing sites to book online bus tickets.