Travel from Kuala Lumpur to Penang by bus
Malaysia is known for its natural beauty, infrastructure, beaches, wildlife, and more. Kuala Lumpur and Penang are two destinations many people visit in the country. Travellers prefer to travel from Kuala Lumpur to Penang by bus. You can easily get KL to Penang bus tickets online on any reputed bus booking platform. While Kuala Lumpur is the capital of Malaysia, Penang is known as the food capital, making both places popular among travellers.
About Kuala Lumpur
Kuala Lumpur is not only known for being the capital of Malaysia but for several other reasons. Many people visit the place to experience its beauty. Jawa, Chinese and Tamil are some of the most commonly spoken languages in Kuala Lumpur. The city has several skyscrapers and is known for its nightlife.
About Penang
Penang is popular as the food capital of Malaysia. It is located near the northwest coast. Malay, English, Cantonese, etc., are some of the popular languages spoken on the land. Apart from food, the state is known for its rich heritage. The beaches of Penang are beautiful and attract many tourists. You can take a bus from KL to Penang to reach the place.
Ways to travel from Kuala Lumpur to Penang
Several buses run from Kuala Lumpur to Penang. You can book a nice bus from KL to Penang to explore the beautiful city. You can check any KL to Penang bus travel time online on a reliable and reputed bus booking site. On these sites, you will also find the schedules for KL to Penang buses and other details like amenities available, no. of rest stops, safety measures, etc. Alternatively, you can also use a car or a train to reach Penang from Kuala Lumpur. However, buses are the cheapest and the most convenient way to commute between the two cities.
Bus from KL to Penang
Several buses operate on the Kuala Lumpur to Penang route. Some of the famous KL to Penang bus operators are: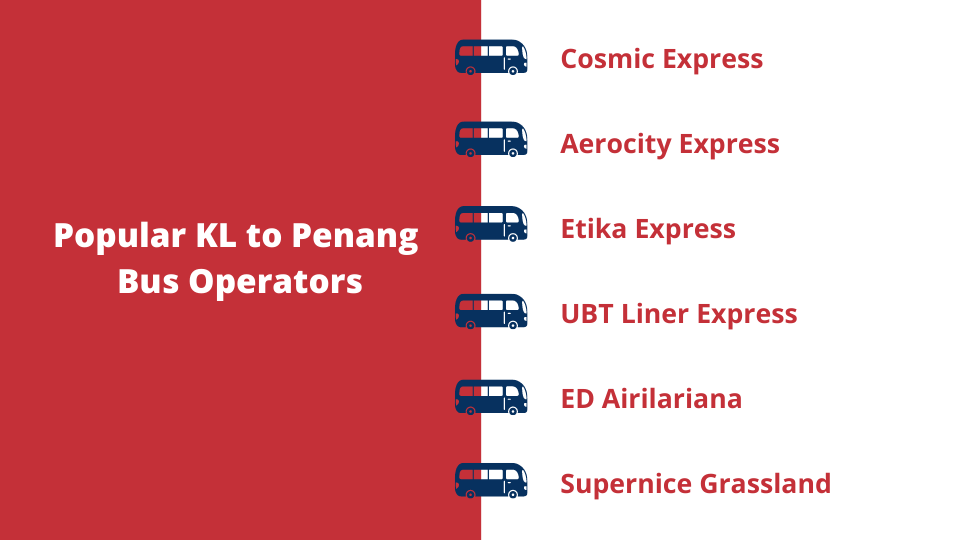 Cosmic Express
Aerocity Express
Etika Express
UBT Liner Express
ED Airilariana
Supernice Grassland
When you go for the bus ticket online booking, you will see a list of all the bus operators that provide buses for this route. The first bus departs from Kuala Lumpur at around 7:25 am, while you can board the last bus around 11:59 pm. The last bus is managed by Intercity Coach, while The Cosmic Express runs the first.
The lowest fare of a KL to Penang bus is around MYR 34.3. The maximum price of a ticket for a bus from KL to Penang is about MYR 55. The cost may change depending on the bus operator and the type of bus you select.
You can also choose your pickup and drop off points while booking your online bus tickets. Some popular pickup points for KL to Penang bus are:
You can get down at the following stations in Penang:
Butterworth
Sungai Nibong
Booking bus tickets online from KL to Penang
Booking online bus tickets is super-fast and convenient. Many websites offer online bus ticketing services in Malaysia. However, you must choose a well-known and trustworthy e-booking service.
Most websites more/less follow the same bus booking process. A good platform is user-friendly and will navigate you through the booking process with ease.
You can book your KL to Penang bus tickets online using the following steps:
Open the bus ticketing app that you want to use to book a bus from KL to Penang.
Enter the source city as Kuala Lumpur and the destination city as Penang, and the date of travel. Click on the search option provided.
A list of several KL to Penang buses will appear on the screen. You can compare the buses based on different parameters and choose the one that serves all your requirements.
You can then choose your seat using the virtual seat selection option. It will display both the occupied as well as the available seats.
Enter all relevant information like the name of the passenger, age, etc., after choosing the seats.
Pay for your bus tickets for a bus from KL to Penang using any online mode of payment. A reliable online bus booking site will use SSL encryption technology to protect your payments.
Once confirmed, you will get your KL to Penang bus ticket via email and SMS.
Save Up to 55% Off on Bus Ticket Bookings on Deepawali 2023
Save big on bookings done online on bus ticketing platforms on Deepawali 2023!
Enjoy up to 55% off when you book your preferred bus online, choosing from various bus routes, cities, and operators nationwide. Use code DEEPAVALI55*
*T&C applied