8 Tips for Online Bus Ticket Booking
Do you love to travel/commute by bus? Have you opted for online bus ticketing yet? Bus online tickets can help you in various ways as compared to traditional ticket booking methods. Not only it offers more choices, but it also saves your time as you don't have to visit the physical booking counters. Let us see some of the tips to know while booking bus tickets online.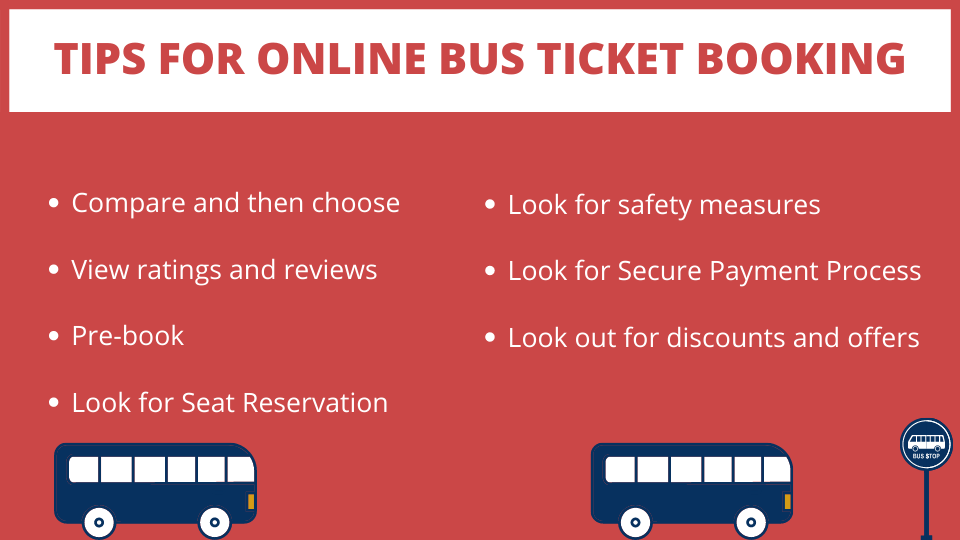 Hassle-free booking process
One should not opt for bus ticket booking platforms that have a complex booking process. A complex booking process can sometimes lead to wrong online bus booking. An ideal booking platform should be easy-to-use and informative.
Bus Tickets Online provides online bus ticketing services via its mobile application and website. The interface of the Bus Tickets Online portal is easy-to-use and bug-free. It is also informative and lets you know in detail about different operators, amenities offered, boarding/dropping points, routes, etc.
Secure Payment Process
Always make sure to opt for a bus booking portal that provides a payment process secured by SSL (Secure Sockets Layer) encryption technology and is trusted by many people worldwide. This portal should also promise to protect the passenger data at all costs via its strong privacy policy. Besides providing a secure payment channel, check for the available payment mode options and whether you can pay for bus booking on via credit/debit card, internet banking, e-wallet, etc.
One should not opt for unsecured/suspicious booking platforms in the name of lower bus tickets. To stay away from any type of scam, it is advised to do some research regarding the booking platform.
Look out for discounts.
Bus booking via online platforms can be cheaper if you make use of the promotional offers. Reliable online bus ticketing companies offer coupon codes and discounts to its users from time to time. The deals and promotional offers offered have an expiration period so make sure to use them on time.
One can stay connected to the social media platforms, provider's website, etc., to know about the latest offers. Make sure to not get caught by scammers while searching for coupon codes.
Compare and then choose
One of the main benefits of online bus booking is that you get to compare the timings and services of various buses non the same route. One should make a habit of comparing the fare of various buses before booking one.
Bus Tickets Online is connected with many operators and can provide you with robust bus services at frequent hours on your preferred route. You can compare the fare, amenities offered, timings of various buses.
View ratings and reviews
Ratings and reviews about any bus or operator are provided by past users and can help find the top bus services. You can get to know about any bus operator's shortcomings or pros by reading past passengers' reviews.
Always go for the bus booking portal that provides ratings for each bus and operator and can be referred to while booking online bus tickets. Make sure that ratings and reviews are authentic, as one can rate/review a bus only after completing the bus journey.
Pre-booking
Online bus ticket booking is made to pre-book your tickets easily. Making a habit of pre-booking will help you in saving time and money. The bus fare towards holidays can increase due to high demand & less availability. Make sure you book the bus tickets in advance to avoid any hassles at the time of the journey.
One may think that booking online tickets in advance can lead to a problem if the travel dates fluctuate. But there are bus booking portals where rescheduling and cancelling can be done easily. The cancellation policy also depends on the operator, so it is advised to refer to it once before cancelling your ride.
Seat reservation
One should choose a bus booking platform that lets you choose your seat, for e.g., a window seat, corner seat, etc., via each bus's seat layout. On spot bus ticket booking at agents' offices may seem great for people who want to travel on an urgent basis. However, there is plenty of discomfort in it.