How to Book a Bus ticket online on the Bus Tickets Online website?
Booking bus tickets online has never been this easier with the advent of mobile phones and fast internet connections! Long queues at bus stations and travel agent counts are now a thing of the past now.
If you're looking to book bus tickets online on the Bus Tickets Online platform, then you needn't worry as the steps are quite simple. The company has a 24/7 helpline service that you can call for any issues you might face during or after booking your bus ticket. Let's look at the steps involved in booking a bus ticket with Bus Tickets Online (Malaysia).
Booking a bus online ticket through www.busticketsonline.com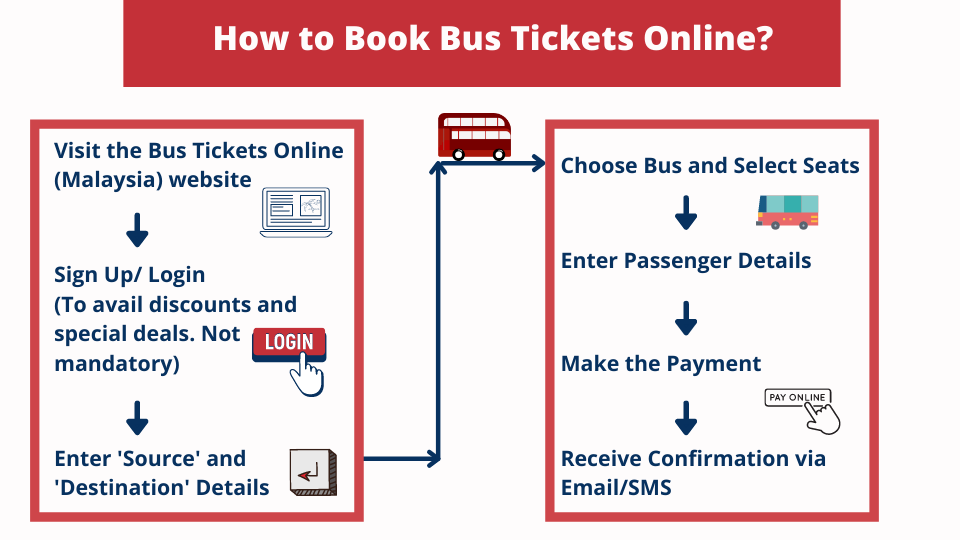 Bus Tickets Online has a robust and simple booking process to book online bus tickets . Here are the necessary steps that need to be followed when booking a bus ticket through the Bus Tickets Online (Malaysia) website:
Visit the Bus Tickets Online (Malaysia) website by entering www.busticketsonline.com in your search tab

Sign up or log in with your registered account. Customers do not have to create an account to book a bus ticket. But, it is advisable to do so as they can avail special discounts and cashback offers when they do create an account on the Bus Tickets Online platform

Enter your source and destination locations in the "From" and "To" tab along with the date of departure and hit the "Search Buses" button

Customers are then redirected to the search results page where they can view a list of buses that are operational on the provided route

Customers can arrange the results by clicking on any of the "Sort By" options that are displayed towards the top of the screen

Click on "View Seats" after you have selected a bus, select a seat, and click on "Proceed to Book"

Once done, confirm the details of your ticket and complete the booking procedure by making your payment

The customer will receive their bus ticket on the customer's registered email ID and mobile number.
It is that simple! Bus Tickets Online has a team of highly-skilled technicians and engineers who do their best to ensure that the booking platform offers a smooth bus ticket booking experience that leaves the customer happy. Bus Tickets Online also a dedicated team to address any concerns or queries that are made by a passenger. There are a number of offers and cashback options that a customer can avail when they book their bus ticket through BusTicketsOnline.com. So, visit the Bus Tickets Online website today!