Which are the important bus terminals in Malaysia?
It doesn't matter if you are traveling alone for the first time or a seasoned travel veteran, navigating through Malaysia's several bus terminals can be a bit daunting at times. Built-up to accommodate tourists and locals in a smooth manner, you can imagine the number of terminals located in Malaysia and how confusing things can sometimes get. However, with Malaysia's rock-solid infrastructure, passengers can get help easily and quickly and find the closest bus terminal. From restaurants to salons, you can get access to any world-class amenity if you want.
Let's take a look at some of the top bus terminals in Malaysia and the amenities they provide for passengers passing through their gates: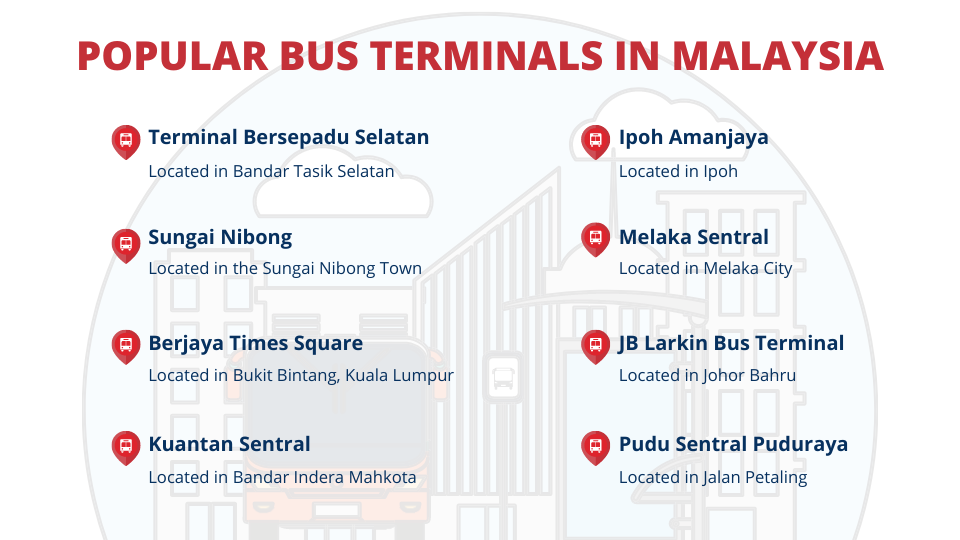 Top Bus Terminals in Malaysia
Terminal Bersepadu Selatan:

Inaugurated on the 1st of January 2011, Terminal Bersepadu Selatan is the hub of all buses that are south-bound. One of the reasons behind authorities restructuring the express buses was to reduce the congestion that Kuala Lumpur center was famous for. Not only does the new terminal look great, but it also towers over the streets with six stories. Located at Bandar Tasik Selatan, it lies around 10 km from Kuala Lumpur. The many amenities include waiting areas, changing rooms for infants, ATM machines, information counters, etc. There is also luggage storage available if you have a long wait, making

Terminal Bersepadu Selatan

one of the most efficient terminuses in the country.

Sungai Nibong:

Located in the town of Sungai Nibong, the terminal shares the town's name and handles the Rapid Penang bus routes, namely, 102, 303, 304, 305, 308, 401, and AT (Airport Transit). With stops along the Jalan Sultan Azlan Shah that runs through the town, the

Sungai Nibong bus terminal

also serves as the most important bus station on Penang Island. If you are traveling from peninsular Malaysia, southern Thailand or Singapore to Penang Island, then this is the terminal you will need to arrive at. The facility is under the jurisdiction of the local city council of Penang Island and they renovated the entire building in 2016. With bathrooms, waiting rooms, and ATMs, traveling through Sungai Nibong is no more a hassle.

Ipoh Amanjaya:

Ipoh Amanjaya

is large and centrally air-conditioned terminal in Malaysia making it quite comfortable for travelers. The waiting area is spacious along with a dedicated space for pre-boarding. The various signages around make things even easier, and if you still need help, you can avail the same from customer service officials. You don't have to move around much as there is one counter for all types of tickets, and if you have booked a

bus ticket

online , just get a print-out of the confirmation email that holds your PNR. As far as other amenities are concerned, there are bathrooms available along with eateries like Di Naina Restora that stays open 24/7.

Melaka Sentral:

Being one of the largest public transportation terminals in Melaka City, the

Melaka Sentral terminal

enjoys a strategic location between Lebuh AMJ (Jalan Tun Abdul Razak) and the small region of Jalan Panglima Awang. The terminal itself covers a vast area to handle the huge number of passengers that flow through its gates every day and was opened in 2004. The building has high roofs through which sunlight reaches the inner sanctums, and the entire design is based on Kuala Lumpur International Airport. There are plenty of food outlets, gift shops, shoe shops, and souvenir stalls. You will also find several vending machines for small bills, however, a tip here would be to reserve in advance. With screens showing every bus number, along with the status, Melaka Sentral serves as a great terminal for newbies as well as seasoned travelers.

JB Larkin Bus Terminal:

JB Larkin Bus terminal

, or Johor Bahru Bus terminal, is located in the town of Johor Bahru, Johor. The terminus serves a lot of buses that ply the many cities and towns in and around peninsular Malaysia, Hat Yai (Thailand), and Singapore. With over 50 bus bays, the JB Larkin Bus terminal has three levels and are constructed in the shape of a "T" for the smooth flow of passengers. There are eateries inside like KFC and a separate waiting area for pre-boarding. Bathrooms are also available if you have a long journey ahead of you.

Berjaya Times Square:

Located at Bukit Bintang, Kuala Lumpur, Malaysia, the Berjaya Times Square terminal is situated right in front of the Berjaya Times Square building which is a 48-story building. Inside the building are several shops, food outlets, malls, and over 1,200 luxury suites. If you are traveling with kids, then there is an entertainment theme park that's open along with a 3D theatre. The entire bus terminal itself is completely air-conditioned and has various amenities like ATMs, restrooms, and VIP lounges.

Pudu Sentral Puduraya:

Popularly known as an urban transformation center, the

Pudu Sentral

Puduraya bus terminal is located in Jalan Petaling which is also known as Chinatown. Starting operations in 1975, the terminus was renovated in 2011 and has become one of the most efficient bus terminals in Malaysia. With a number of ticket counters, retail outlets, and a food court inside the building, passengers are often spoiled for choice. The screens and signages give accurate information, and you can even book yourself a taxi to get to your home or hotel from the terminal itself.

Kuantan Sentral:

Situated in Bandar Indera Mahkota,

Kuantan Sentral

is one of the most efficient transportation hubs in the country. Being the largest terminal in the East Coast (Malaysia), Kuantan Sentral has various amenities to make the lives of travelers hassle-free. Inside, you will find several convenience counters, food stalls, restrooms, and waiting areas. Another advantage of this bus terminal is the fact that all ATMs are in rooms for privacy, with a large electronic board showing accurate bus timings.



Hassle-Free Check-In with QR Code Boarding Pass @ RM 1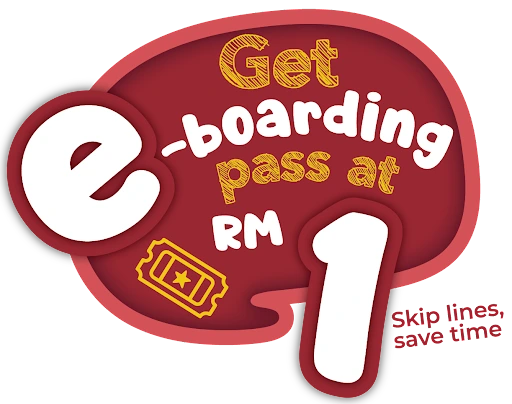 Say goodbye to long queues and save time with our new Boarding Pass service! For just RM 1, you can purchase your boarding pass online in advance and enjoy an X-press check-in experience at the terminal.
After purchasing your boarding pass, it will be sent to your registered email ID, allowing you to head straight to your bus at the boarding terminal without any additional stops.
Simply scan the QR code on your boarding pass at the turnstile and proceed to your designated platform. Best of all, you won't have to pay any additional fees at the terminal!

For more details on popular bus terminals in Malaysia, amenities and other information, visit bus tickets online.