How to Book a Bus Ticket at TBS?
A state-of-the-art terminal in the capital city of Malaysia, Terminal Bersepadu Selatan (TBS) offers a bus booking experience like no other. With advanced Ticket Vending Machines (TVM) and informative signage that can easily guide anyone to the nearest counter, Terminal Bersepadu Selatan (TBS) does meet high standards set by other bus terminals around the world. The terminal houses a large number of bus operators who offer their luxury transport services towards the east coast, northern, and southern regions.
Booking a bus ticket online does save on time as you do not have to spend time traveling to the terminal and booking your ticket at the counter. To make it more economical for you, several bus booking companies offer online bus tickets where you can . You also have a wide array of options to filter, select, and complete your payment in a matter of minutes from the comfort of your home.
But, if you do happen to land at the terminal, TBS has a lot to offer when it comes to booking your ticket.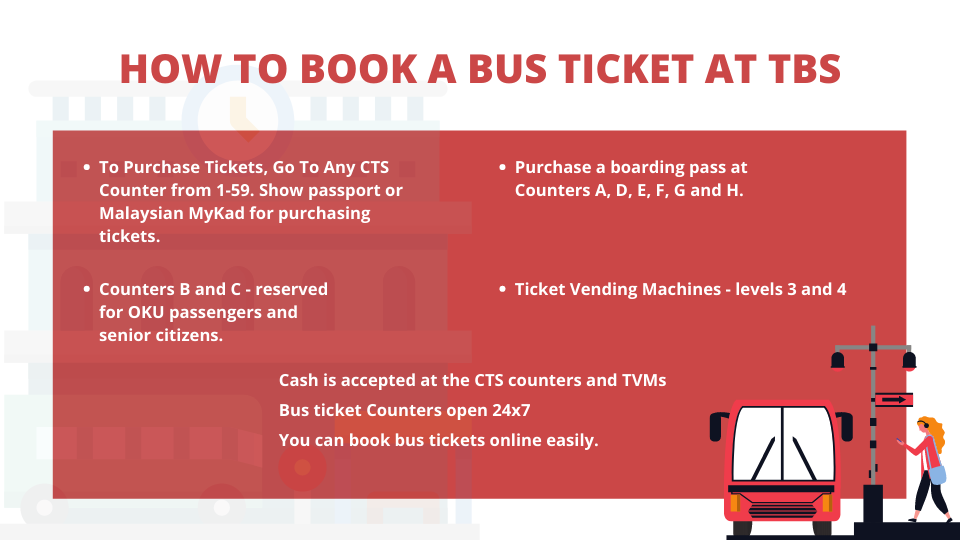 How to Buy Bus Tickets at TBS

Passengers can purchase their TBS bus tickets either online or offline. If a passenger wishes to obtain their bus ticket at the terminal, they can:
Head to any of the CTS counters starting from 1-59

Purchase a boarding pass at

Counters A, D, E, F, G and H
Counters B and C are reserved for OKU passengers and senior citizens
Ticket Vending Machines are available on levels 3 and 4
Passengers can make use of the interactive and user-friendly screens to view information on TBS bus schedule, bus operators, routes, seat availability, and much more. Cash is accepted at the CTS counters and TVMs. Bus ticket counters are open 24 hours a day, 7 days a week.
Passengers are required to show their passport or Malaysian MyKad as an official document that is required to purchase a bus ticket.
TBS Contact Information

People who wish to get in touch with the customer care team at TBS can either dial +603-9051 2000 or drop an email to customercare@tbsbts.com.my. Or complete your bus ticket online booking with us.