Cross Border Bus Tickets between Malaysia and Singapore
How great would it be if one could travel from a country to another by road? Not only would that be inexpensive, but also convenient for people who can't travel by any other means. With good roads and connectivity, a cross-border bus is a good option for people who love traveling by roads because of their views. Malaysia to Singapore is one such route that can be covered by bus. With a duration of merely 5-6 hours, a trip to Singapore from Malaysia can be a good way to spend the weekend or vice-versa. There are plenty of flights available between the two countries. But if someone is looking for adventure, then a bus trip would be a good idea. Depending on the coach, the one-way price of a Malaysia Singapore bus online ticket can range anywhere between MYR 35 to MYR 85.
Not only is it the cheapest way to travel, but traveling by coach also offers amenities like comfortable seating, wifi services, and food. You can book Singapore bus tickets for all your bus journeys to and from Singapore with us.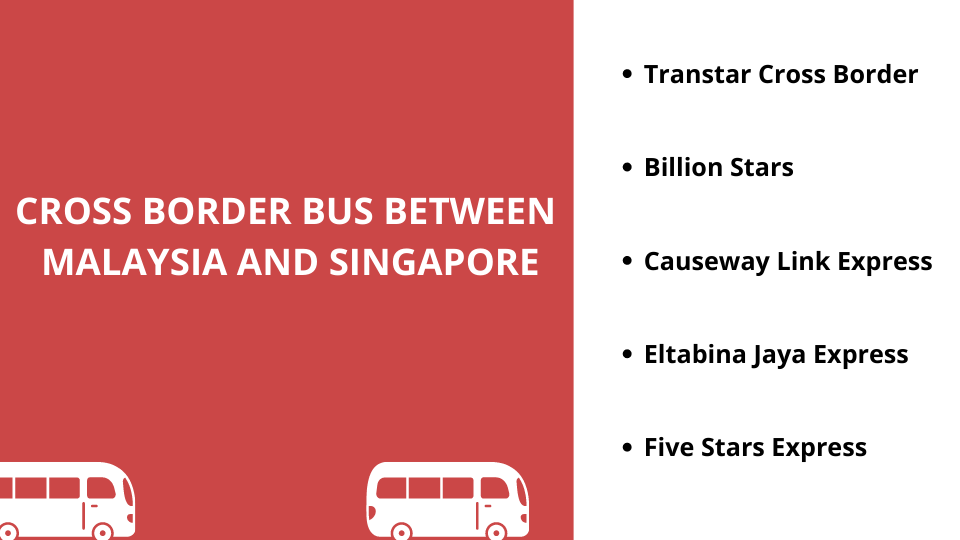 Departure points from KL to Singapore
The busiest terminal in Kuala Lumpur is the Terminal Bersepadu Selatan, and it has departure to almost every city in the country. Recently TBS has also started the departure of buses to Singapore. Apart from the TBS, bus operators have also set up departure points at Pudu Sentral, Chinatown, Berjaya Times Square so that passengers can choose the bus station that is most convenient to them.
The bus operators that offer bus services between KL and Singapore are Starmart Express, Konsortium Express, Transnasional, and City Express. Grassland Express leaves five times a day from the Berjaya Times Square. Aeroline departs every 4 hours from the Corus Hotel KL.
The famous drop-off locations in Singapore are Singapore Woodlands, Golden Mile Complex, The Plaza Beach road, and Singapore flyer.
Visa and Immigration between Kl to Singapore
For Malaysia Singapore cross-border travel, passengers are required to get off the bus twice. Once at the Malaysian Immigration checkpoint, one must show their passport, visa, and documents. The other top is at Singapore Woodlands. Both places require the passengers to produce their documents for verification. Once the Johor Bahru- Singapore causeway bridge is crossed, one is required to get off at the Singapore customs. The immigration process in Singapore takes more time because they have strict rules, and the passengers are required to get their entire luggage screened. After getting all their documents approved, the passengers can get on their buses and proceed.
Tips while crossing the border
Make sure all the documents are stamped and in the right order.
There are strict rules against alcohol and cigarettes. It is always better to declare all the goods that the passenger is carrying, or else there is a hefty fine.
Bring the entire luggage and be courteous to the officials.
Don't create inconvenience for other passengers.
Bus operators between Malaysia and Singapore
One of the most reputed travel companies, Transtar Travel, has been in the business since '94 and has a fleet of luxurious coaches plying to and forth Malaysia and Singapore. The company believes in customer satisfaction and has coaches with all amenities and comfortable seating. It is the leading coach company in Singapore and provides value for money service to its consumers.
Billion Star Express is a growing coach company based in Georgetown and offers coach facilities in Malaysia for long and short travels. The company has also started daily trips to Singapore from Malaysia and return trips as well, with pick-up points in Singapore being the Golden Mile Complex. The first bus departs at 00:15 AM, and the last bus departs at 23:59 PM, with daily trips being close to 36.
Holding its reputation as one of the most reliable and efficient coach companies, Causeway Link express offers coaches between Johor Bahru to Singapore 4 times a day, with the first departure at 10:00 AM and the last departure at 23:55 PM. The buses have innovative designs, and they operate a fleet of clean and comfortable coaches.
Hailed as the most popular coaches on this route, Eltabina Jaya has a dedicated fleet of coaches that provide services between Kuala Lumpur and Singapore and return from Singapore. There are two types of coaches available. One is the 27-seater coach known as the Super VIP coach, and the other one is the Double Deck coach with 37 seats. Eltabina Jaya has the reputation of providing its travelers with unmatched comfort and safety. The first departure is at 7:25 AM, and there are 24 trips between KL and Singapore every day.
With the highest number of trips daily to and from Singapore, the express company provides daily travel services from cities such as Ipoh, Malacca, and Genting to Singapore. It is also the only travel company that offers bus services from Kluang to Singapore and back. The spacious buses provide comfortable seats and enough legroom for passengers to travel with ease. With zero compromises of safety, they ensure that the passengers arrive at the destinations hassle-free.
People preferred to travel by flights earlier. But keeping the traffic and the airport distance in mind, it is advisable to skip the unwanted extra distance and choose to travel by bus instead. They go easy on the pocket and are accessible.
It is best to travel on Malaysia SingaporeBus to enjoy the scenic views along the way. With a range of comfortable coaches to choose from, it is always better to book bus tickets online in advance and avoid last-minute tensions. To make it more economical for you, several bus booking companies offer online bus tickets where you can .There are many options ranging from ec onomy to luxury buses, and the passengers can choose what suits their needs. Buses with comfortable seatings and amenities like food and air conditioning are available along with extra luxurious coaches for passengers that are willing to spend an extra amount and time on their travel. The best part is that it gives the passengers to board from a place of their convenience. All in all, it's a good option.