Buses To and From Klia2 Terminal
The Kuala Lumpur International Airport arena is a busy hub with both flights and bus services. The buses take the passengers to and from the airport to different parts of Kuala Lumpur as well as to other cities in Malaysia. KLIA2 bus either start from various terminals or KLIA. You can find city buses, shuttle buses, and long-distance buses to KLIA2 and back. KLIA2 buses are available from TBS and other major bus stations from other cities as well. You can easily book KLIA2 bus tickets from anywhere.


Facilities inside Kuala Lumpur International Airport (KLIA)
Despite being a busy airport, KLIA has provided ample facilities for the bus station that stays busy from early morning till late night. There are bus bays, ticket counters, waiting areas, and convenience stores right within the premises. The navigation through the airport is impeccable, with signboards placed at strategic locations to help the passengers manoeuvre through the area and reach the bus station without hassles.


Once you reach the bus stations, you can see several ticket counters to buy the tickets to respective locations, if you haven't got one. There are different platforms allocated for the different bus operators and routes. The respective buses would be waiting at the allotted bus bays. The buses available would take you out to the city centre, for an interstate journey or simply between KLIA and KLIA2.


Buses from KLIA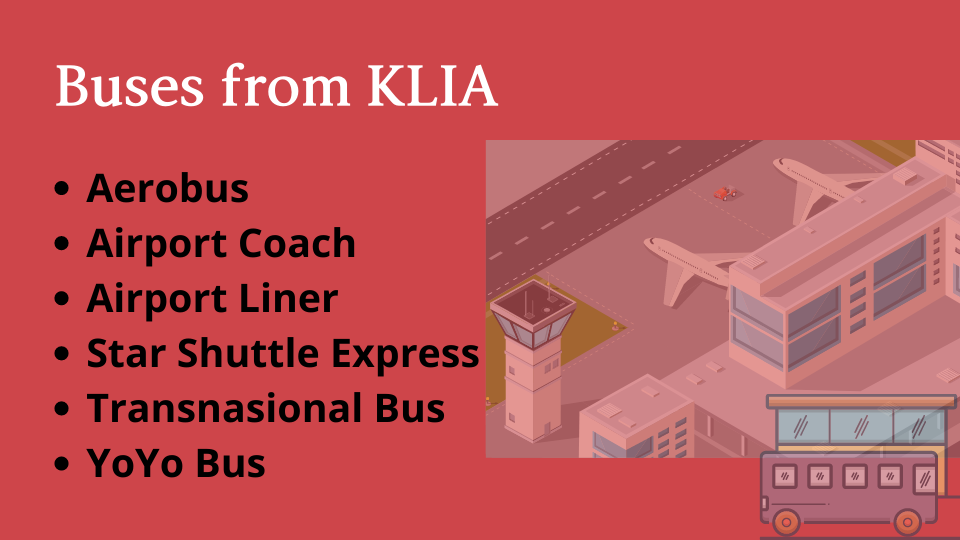 Buses to KLIA are available from all parts of Malaysia. One can easily find a from TBS to KLIA2, which usually takes one hour to reach the airport. More bus operators operate from KLIA2 than that to or from KLIA. The main bus services available to and from KLIA are available from these bus operators.


Aerobus KLIA bus services are available from KLIA2 to KL Sentral, Genting Highlands, Petaling Jaya, Paradigm Mall, etc. These buses have a starting fare of RM 11 to the KL Sentral and RM 35 to Genting Highlands. The buses have high-class amenities with enough space for the luggage as well.


Airport Coach buses would take you from KLIA to the KL Sentral, Batu Pahat, and Muar areas and vice versa. Their services are available from 5 am till midnight. These buses would pick up from both KLIA and KLIA2 to the respective destinations. The average ticket fare is RM.10-35 depending upon the destination.


This is the paid shuttle service bus from KLIA to KLIA2 and vice versa. Usually, there would be a free shuttle bus to KLIA from KLIA2, usually a 10 minutes drive. Airport Liner provides the same service at a nominal price of RM2. Their services are also available from KLIA2 to Nilai KTM Komuter Station, with several stops on the way. These outstation bus fares would be from RM0.70 to RM 4.


The Star Shuttle bus services are non-stop direct services from KLIA2 to Pudu Sentral, Ipoh, etc. The average bus fare ranged between RM 8- 45 depending upon the destination. The buses are 36-seaters with luggage space to accommodate everyone. Star Shuttle buses are either arriving or departing from KLIA2 until 2.30 am with a few hours recess till 5.30 when the buses are not available.


Transnasional buses operate exclusively between KLIA2 and Melaka, with buses starting from 1.15 am till 9.15 pm from the airport. The KLIA bus schedule would be 10-15 minutes prior to the scheduled time at KLIA2. The journey between KLIA and Melaka Sentral would be 3 hr with the bus fare being RM 24 for adults and RM 18 for children. From Melaka Sentral bus to KLIA starts from 12.15 am till 10 pm.


If you need transportation between KLIA and Johor Bahru, Ipoh, or Yong Peng, the YoYo bus is your option. From KLIA, the bus to KLIA2 reaches within 20 minutes, and from there, the journey would be 2-3 hrs to the respective destinations. Buses are available from 2.40 am till 11.40 pm from the airport. The average ticket fare is RM 35 for the long-distance routes.


Buses from KLIA2
Ticket counters are available at KLIA2, but the counters are more or less common for all bus operators. The additional bus operators that operate from KLIA2 are:


Skybus that operates direct routes to KL Sentral and Utama Shopping Mall
Jetbus is the only bus company that provides the bus from KLIA2 to TBS


Please do note that those in transit and who want to move to the other terminal have the rail service and the free shuttle service available at a different location. But the drop off point at the respective terminals will be the Transportation Hub for both KLIA and KLIA2 terminals.


How to get KLIA2 tickets?
Ticket counters are available at the entrance of the bus station at both KLIA and KLIA2 terminals. You can see different counters for each bus operator. Alternatively, bus ticketing online is a more convenient option as not all buses that pass through the airport have a counter at the airport.


Advanced booking of the ticket ensures your seat on the buses. For the Airliner shuttle buses, you can get the tickets directly from the counters. As mentioned, there also are free shuttle service buses that are available at regular intervals.
A little caution
Make sure to book the tickets to the exact terminal of the airport. KLIA and KLIA2 are different terminals situated 2 km apart. Not all the bus operators or their service routes cover both terminals.


So before you book your tickets, ensure which terminal your airline would be using and whether your chosen bus operator has a boarding or drop off point at that terminal. Also, note that KLIA is displayed as KLIA1 in certain bus ticket online booking portals.