Top Intercity Coach Services in Malaysia
Malaysia is an emerging economy, with over 32.7 million population. It is a country full of opportunities that attract many people. Since Malaysia is the bridge between continental and island Asia, travelling and intercity coach services are quite prominent.


Buses are the best way to travel in Malaysia. They are cheap, comfortable, efficient, and above all, safer than most of the other modes of transportation. Many bus operators in Malaysia serve various routes and offer bus ticket online booking, depending on the needs of the passengers. The intercity coach services in Malaysia help people travel from one city to another comfortably.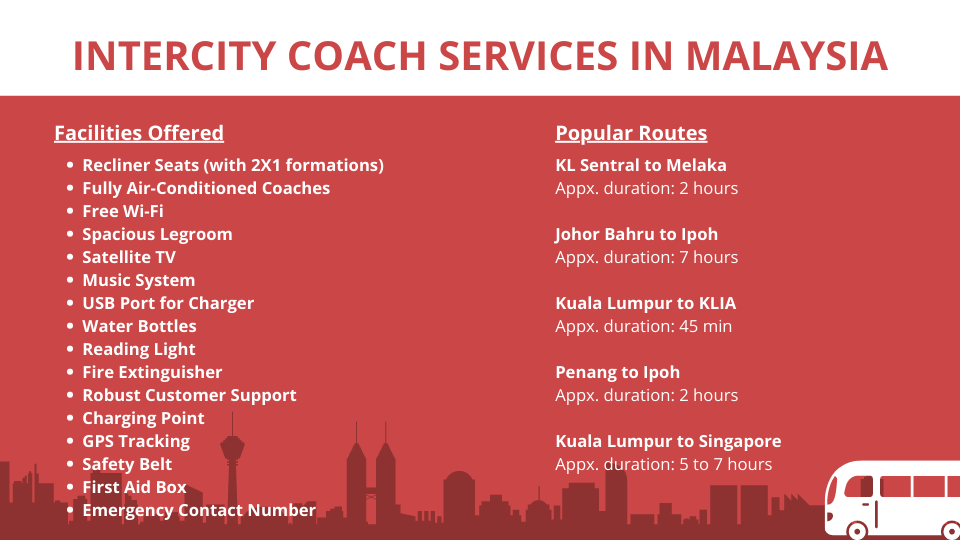 Intercity Coach Bus Companies
What a traveller would use the most while commuting in Malaysia are the intercity buses. With hundreds of private bus companies competing hard, these intercity buses are the most affordable mode of transportation in Malaysia. While standard intercity buses have 44 seats, others also have 20 to 30 seats providing more legroom. One can find the following facilities on intercity coaches in Malaysia:
Recliner Seats (with 2X1 formations)
Fully Air-Conditioned Coaches
Free Wi-Fi
Spacious Legroom
Satellite TV
Music System
USB Port for Charger
Water Bottles
Reading Light
Fire Extinguisher
Robust Customer Support
Charging Point
GPS Tracking
Safety Belt
First Aid Box
Emergency Contact Number


Besides being comfortable, intercity coach buses are always on time. Bus operators like Plusliner, Konsortium, Transtar, Transnasional etc., have a mission to provide punctual travel services to passengers. All the intercity coach buses have a set schedule organized through well-planned timetables. One can check the bus timings on the bus terminals or the company's website while booking their intercity buses.


Intercity Coach Travel Routes
Intercity buses in Malaysia travel on many routes. Some of the popular bus routes are listed below:
KL Sentral to Melaka - Appx. duration: 2 hours
Johor Bahru to Ipoh - Appx. duration: 7 hours
Kuala Lumpur to KLIA - Appx. duration: 45 min.
Penang to Ipoh - Appx. duration: 2 hours
Kuala Lumpur to Singapore - Appx. duration: 5 to 7 hours


Intercity Bus Types
With top bus operators like Plusliner, Transnasional, and Causeway Link, intercity bus services in Malaysia have many buses to cater to the growing number of travellers in Malaysia. These buses come in high-deck coach design with a total of 30 seats in the upper deck. The two major bus types of Intercity Coach are super VIP buses and executive (2+1) buses. Professional drivers with years of training drive both these bus types. The bus staff is also very prompt in guiding the passengers and delivering them excellent hospitality.


Why Book an Intercity Bus
Buses are not only affordable but also save plenty of journey time as passengers can board a bus from their nearest boarding point. Various bus operators in Malaysia take their passengers' comfort and convenience very seriously, and their safety is rooted in the company's work principles. They invest heavily in providing the most modern and luxurious buses to passengers. Its operations are conducted with strict adherence to traffic rules and road safety measures.


From time to time, these intercity bus companies perform routine maintenance of their fleet of buses and provides professional training to their drivers and operational staff to upgrade their skills. The motive of these activities is to improve the company's services to serve the passengers best. The bus operators also welcome constructive feedback from customers to understand which areas of their services they can work on further to enhance the customer experience.


Safety Precautions by Intercity Coach Service
During the current pandemic, when things turned upside down due to health risks and travel restrictions, intercity bus services in Malaysia responded to the situation quite responsibly. As passengers' safety is the No. 1 priority, they implemented several preventive measures to combat the risk of contamination. Some of the key steps taken by the buses in Malaysia are:
All the buses are deep cleaned and disinfected before and after every ride.
Mask wearing is mandatory for every person on the bus.
Hand Sanitizers are installed in buses for passengers' use.
Passengers are asked to follow social distancing of at least 1 meter from fellow passengers on the bus.
The bus staff is regularly checked for temperature for passengers' safety.


One can easily book an intercity coach online via any of the bus ticketing online portals. To get the best intercity bus services, the portals also provide bus company reviews, onboard facilities, and the price range that passengers can check before buying a bus online ticket. With world-class facilities, numerous routes services, and a sharp focus on customer safety, intercity buses are the perfect travel option for people looking to explore Malaysia through a fun road trip.