Bus Amenities to Check while Booking Online Bus Tickets
Booking bus tickets online has many benefits, and one of them is that you can view the amenities offered by any bus in advance. Malaysia has a lot of tourist places, and traveling by bus helps in budget travel. The bus tickets in Malaysia are less than flight or car rental charges, so tourists prefer booking bus tickets online. Malaysia has many bus operators that provide buses with basic as well as luxurious amenities onboard. Read on to know more about amenities offered on Malaysia buses.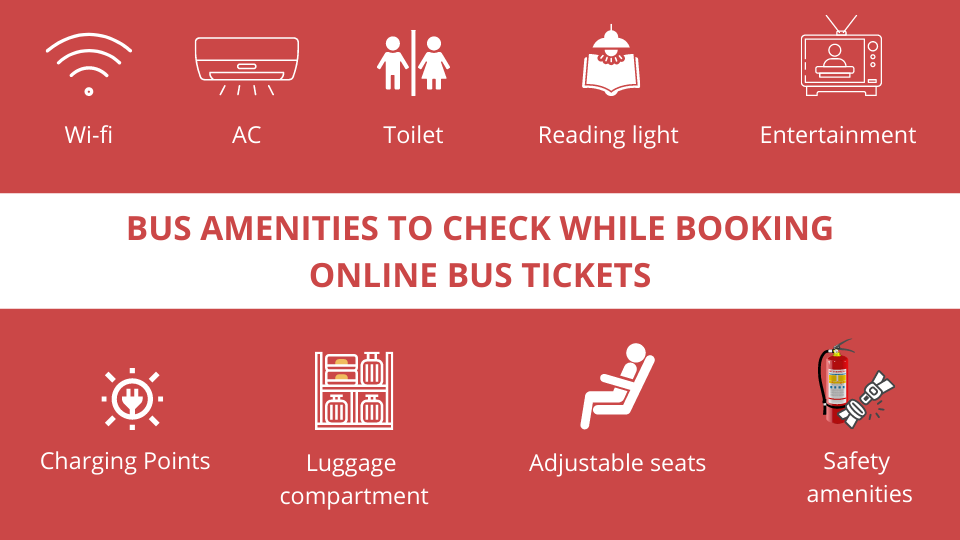 WIFI
A lot of buses in Malaysia provide free WIFI on board to passengers. You can only use the WIFI during your journey and can watch movies or listen to songs online. The WIFI charges are included in the ticket, and you are not charged for it separately. Some of the prominent bus operators that provide WIFI onboard to passengers are Mayang Sari Express, Transnasional, Plusliner, Cepat Express, etc. You can check whether a bus is offering WIFI onboard via a reliable e-ticketing platform.

Air conditioners
Bus operators in Malaysia offer AC and Non-AC buses to various locations. The fare of AC buses in Malaysia is a little more than Non-AC buses. You can relax in an AC bus and can grab a relaxing sleep during your journey. Some of the buses also provide blankets/linens to their passengers on board. However, due to the recent COVID scenario, it is suggested that passengers bring their blankets/linens to avoid any infection.
Some of the top bus operators in Malaysia that provide AC buses are Cepat Express, StarMart Express, Plusliner, Jasa Pelangi Ekspres, Mayang Sari Express, Cosmic Express, etc. Transnasional is a bus operator in Malaysia that provides a personal air conditioner for each seat. These operators are also connected with e-ticketing platforms to provide online bus tickets to passengers.

Toilet facility
Some buses also have urinal facilities onboard which adds to the passenger convenience. The buses that do not have a toilet onboard stop at rest-stops near restaurants that have urinal services. Aeroline is a famous bus operator in Malaysia that provides a bus with a toilet on board. In the case of other buses, you can simply convey to the driver that you have to go for the urinal.

Charging ports
Charging ports are found almost on each bus in Malaysia. The charging points in Malaysia buses are situated adjacent to the seats to charge their devices while using them. Bus ticketing platforms let you see the bus amenities offered by any bus, and you can also filter buses based on any particular amenity. Some buses offer a USB port for charging devices, while some offer a charging socket with a switch.

Luggage compartment
Malaysia buses provide ample space to store the belongings of passengers. Almost all the bus operators in Malaysia (KKKL Express, Transnasional, StarMart Express, Cosmic Express, etc.) provide luggage storage space onboard. There are different types of luggage compartments in Malaysia buses, like back compartments and overhead luggage compartments. Some buses also have seats with hand luggage compartments to store lightweight items. Some of the Malaysia buses also provide seat pouches to store eatables or water bottles. The number of bus facilities offered can also increase the price of an online bus ticket.
Some of the bus operators also have a luggage limit in terms of weight and size. It is recommended to refer to the luggage policy of the operator before bringing in a heavyweight belonging. The luggage charges are usually included in the bus ticket price. The staff members will also ensure that the luggage of the passengers is safe.

Reading light
All the buses in Malaysia are equipped with a reading light that is switched on mainly while night journeys. Reading light is one of the basic bus facilities offered to the passengers. Some of the operators offer a reading light above every seat. Coaches with a separate cabinet seat also offer a separate reading light.

Safety amenities
The bus operators in Malaysia focus on providing a safe travel environment to their passengers. They provide various safety amenities to passengers like emergency exit, emergency contact system, hammer (to break glass in case of emergencies), etc. Some of the buses are also equipped with first aid boxes to tackle any emergencies.

Adjustable seats
Various bus operators like Cosmic Express, KKKL Express, StarMart Express, etc., offer ergonomic/adjustable seats to their passengers. These buses have recline-able seats with ample legroom to not make you feel cramped. Various e-ticketing platforms also show the seat layout to the user while booking online bus tickets.

Entertainment facilities
Some of the buses are equipped with audio/video entertainment systems that the passengers can use during their journey. Some buses have a central TV that entertains the passengers during their journey. Some luxurious buses like that of Adik Beradik offer a personal TV for each passenger. Plusliner, Mayang Sari Express, Billion Star Express, Perdana Express, etc., are some of the bus operators that provide a central television onboard to passengers. Some of the transit centers/bus stations in Malaysia also have a central TV installed to entertain passengers while waiting for their bus.
Besides the aforementioned bus amenities, buses in Malaysia are offered a few more like water bottles, snacks, CCTV, newspaper, etc. You can compare the fares and amenities offered by various buses via a reliable e-ticketing platform. You can also rate the bus facilities provided by any operator on e-ticketing platforms. You don't even have to carry a physical ticket by booking bus tickets online as the e-ticket will work as an actual ticket.
You can also save up to 50% off on on the best bus ticket booking platforms that offer incredible discounts. Not just for Malaysia, you can also book Singapore bus tickets for all your bus journeys to and from Singapore with us.

Save Up to 55% on Bus Ticket Bookings on Deepawali 2023
Save big on bus online bookings for Deepawali 2023!
Enjoy up to 55% off when you book your preferred bus online, choosing from various bus routes, cities, and operators nationwide. Use code DEEPAVALI55*
*T&C applied