Malaysia Airport Transfers
Kuala Lumpur International Airport has two airport terminals, KLIA1 and KLIA2. Sometimes people panic during tight layover periods about how they would travel between these. Thanks to airport transfer facilities and shuttles available between the two, there is no cause for worry. It takes approximately 5 to 10 mins to travel the distance and is highly efficient. Passengers can easily book an online bus ticket for the same.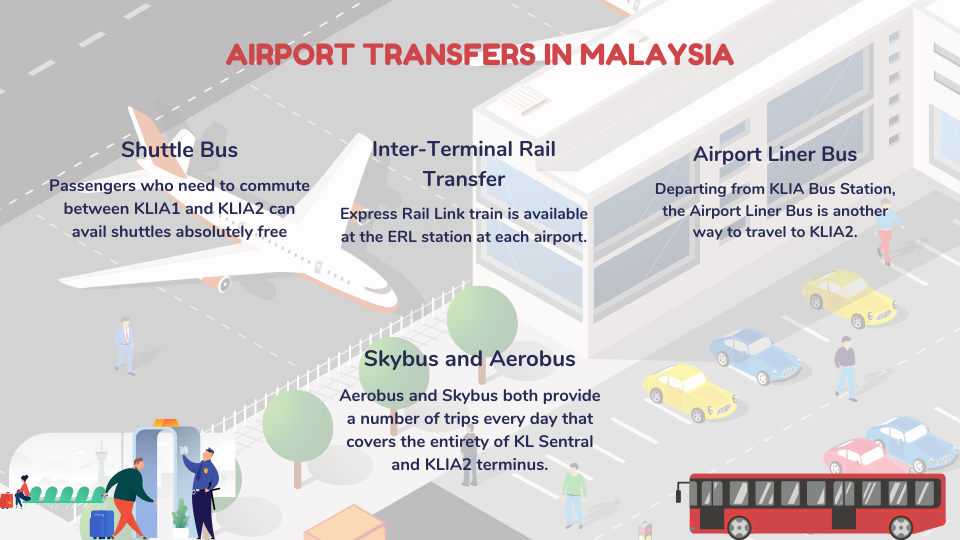 Here are a few ways by which you can travel from KLIA1 to KLIA2 and back -

A new addition to the fleet, passengers who need to commute between KLIA1 and KLIA2 can avail shuttles absolutely free. It runs every 10 minutes, so plan accordingly. The waiting area is through Door 4, Level 1 of the main building in KLIA1, while KLIA2 has the pick-up point at Bay A10, Level 1, Transportation Hub.
Inter-Terminal Rail Transfer
If you don't prefer a bus to commute at KLIA airport, but would rather prefer getting into a train, the management has that covered as well. Just take the Express Rail Link train at the ERL station at each airport. A fast and a very relaxing way to travel, heed these tips:
On the KLIA Ekspres and the

KLIA Transit

train, the distance is only 3 minutes between the terminals

During peak hours, there are seven services

During regular hours, there are five services

While it costs RM 2.00 for adults, it's RM 1.00 for a child (one-way)
Departing from KLIA Bus Station, the Airport Liner Bus is another way to travel to KLIA2. While the first bus departs at 5:30 am, the last one is scheduled for 11:50 pm, so plan accordingly. You will find the bus station at Level 1 of KLIA's main building. There are overhead signages that will direct you where to go, but in case you are confused, just ask a customer service office for assistance.
Providing shuttle services from KLIA2 airport to KL Sentral and 1 Utama Shopping Mall, the journey takes a total of a little over an hour. You can easily purchase a bus online ticket or just contact Skybus to book one. The fare should be around RM 11 to RM 14, so it's quite affordable even if you're on a tight budget. Aerobus, on the other hand, accommodates over 42 trips every day that covers the entirety of KL Sentral and KLIA2 terminus. The bus also runs between Genting Highlands, Paradigm Mall, and Premiere Hotel in Klang. You can purchase a bus ticket by visiting the official website of the coach company or purchase them when you get to the bus station.