Planning a Budget Travel Across Malaysia by Bus
Many people want to travel on a budget but also have fun at the same time. While people plan to go to exotic places, this gem in Southeast Asia should be on top of everyone's travel list. Malaysia, a blend of different cultures and people of various backgrounds, has contrasting geography with blue water beaches, hidden jungles, capped mountains, and many other things to explore. It is a haven for backpackers and budget travellers since one can survive a day at $30 or less.
To make the most of one's vacation to this beautiful country, one must make sure that they cover the major tourist hotspots. With cities situated in different corners, tourists can cut costs by choosing to travel by bus. Transport operators in Malaysia offer comfortable and hygienic buses with good facilities. The best part is the cheap bus tickets. Instead of hiring private taxis or taking flights, buses are a great option. Not only do they save a lot of money, but they are safe to travel and not to mention the great discounts and deals you can enjoy on booking bus tickets online.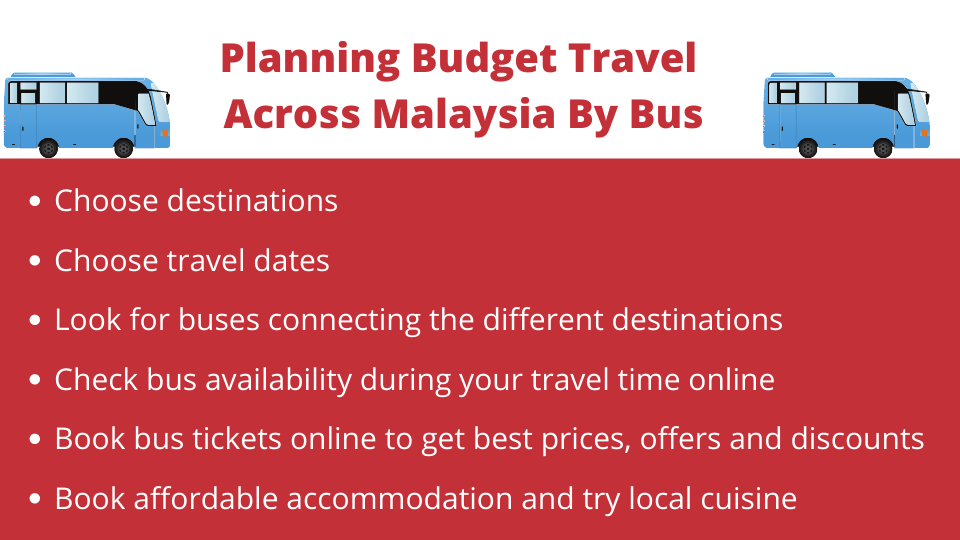 Food and Cuisine
If wanderlusters are looking at enjoying their holiday on a budget, then Malaysia has lots to offer. Foodies can find options ranging from Indian joints to Chinese food courts and Malay restaurants. Food is available 24/7 and is cheap. For strict vegetarians and vegans, there are Buddhist and Hindu restaurants that have no meat policy. So if one is travelling within Malaysia, food will never be a problem. The country with Kuala Lumpur as its capital is becoming a cosmopolitan hub with people from diverse backgrounds living together and adapting to different cultures.
The Best Way to Travel Across the Cities
One doesn't have to spend on a luxurious trip and can still make the most of the country via backpacking. Buses run daily, connecting various Malaysian states. The advantage of travelling by bus is cheap tickets, and you can do bus ticket online booking in a few clicks.
There are more roads than there are railway lines in Malaysia, hence travelling by bus is not only cheaper but convenient as well. So, if one is looking at saving money, travelling by bus could be a good idea. The buses arrive on time and are easily accessible. If you are in Kuala Lumpur, commuting to the major tourist cities like Ipoh, Melaka and Penang is very easy as buses are available every 30 minutes from Terminal Bersepadu Selatan. For visitors exploring KL, a free bus service, GO KL city bus, covers almost all the tourist places like Chinatown and Bukit Bintang. It runs every day and can be spotted every 15 minutes.
Depending on the budget, there are tons of buses to choose from. Many bus operators have fleets of luxury buses for which the tickets are slightly on the expensive side, but they have mid-range comfortable ones as well. For example, the cheapest bus tickets online from KL to Melaka cost RM10, while a luxury bus might be a little pricey and cost RM26. Similarly, a one-way bus ticket from KL to Penang will cost anywhere between RM35 to RM45, depending on the amenities available in the coach.
Booking the Bus Tickets
The buses in Malaysia are well maintained and safe to use. The bus stations are neat and have centralised air-conditioning. Most of the staff at these places speak English so it wouldn't be a problem communicating with them. All the buses and their destination and timing are mentioned properly, making it simple for tourists to understand which bus they need to take.
It is always advisable that while booking bus tickets, one should directly book them from the bus operator's counter and not from random people who are selling tickets at the station. There are high chances of getting cheated, and people end up paying more than what the ticket is worth.
Tourists can travel cheap by choosing buses over other means of transport, thereby saving money which they can use for other purposes like stay and sightseeing. Since the holiday season attracts many visitors from neighbouring countries, it is better to book bus tickets online in advance. With many schemes and offers available on bus ticketing sites, you can reduce your ticket price further. Booking tickets online help tourists to buy not only cheap coach tickets but also skip long queues at booking counters. Travellers can also choose their seats in advance according to their choice.
Travelling on Budget Within a City
For local commuting, it is better if travellers purchase the Touch' n Go card. It works for almost all public transport and saves tourists time and money. The cards are available at the airport and can easily be recharged at convenience stores. Some buses run intercity and are free to use. Tourists should look for buses that are labelled MPPP.
Another great way to save money is to travel by night buses. It saves on the accommodation cost and is better if you pack essentials like a travel pillow and a warm blanket.
Many buses also provide meals to their passengers alongside other amenities like wi-fi and power sockets. Travelling by bus also offers extra comfort as there is more legroom, and the buses stop at intervals for food and restroom breaks. Departures of buses in Malaysia are always on time, and operators provide their passengers with utmost comfort.